The schools found in Wellston, Missouri that are offering nurse aide training and are available for enrollment are listed on this page. For more information about their curriculum, tuition costs, or requirements, just call the number provided to speak with a program director. Courses listed have met with the approval of the state.
Metropolitan Education & Training Center
6347 Plymouth Ave
Wellston, MO 63133
314 989-7500
http://www.stlcc.edu/workforce-solutions/MET-Center/Index.html
If you are planning on becoming entering the medical field, you should start to consider becoming a nursing assistant. Because of high demand for this profession, you will have no problems looking for a job as soon as you become certified. CNA training in Missouri will take you 4 to 6 months to complete.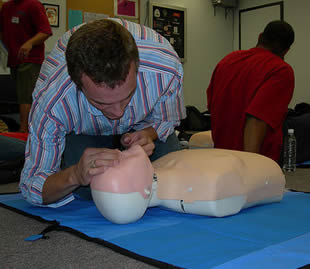 If you want to have a higher degree, there are different certificates that you can add on top of your nurse aide certification. For example, you can become a certified medication technical or get an insulin administration certificate. To qualify for these, you must be at least 18 years old; possess a high school diploma or a GED; have an active status as a CNA; and must not have any federal markers or be on the state's EDL.
RNs may also take advantage in the profession's increase in demand. If you are a nurse that is registered in Missouri, you can become a nursing assistant instructor or a clinical supervisor. You will need to have the necessary experience and complete a train-the-trainer program. Each instructor is only allowed to handle up to 15 students for each class. The lesser the student-instructor ratio is, the better it is for learning.
If you have questions about the qualifications need for certification you can call the Missouri Department of Health and Senior Services at 573-526-5686 or via email at:  info@health.mo.gov
This city is situated in St. Louis County. You can find this city just along the northwestern border of the city of St. Louis itself. As of the 2010 census, their total population has risen up to 2,313. Wellston has a total area of approximately 0.9 sq miles, where all of it is land. The population density of the city is 2,604.6/sq mile. This city was incorporated in 1909. Major roads that you can find near the city include State Route 180 and State Route 340.
Health care centers and providers that are near to the city include Health Resource Center, Missouri Single Payer Health Care, People's Health Centers, Saint Louis Connectcare, Smiley Urgent Care Center, West Pine Medical, Morrow Lavert, and Oncology Therapy Network St Louis. photo attribution: niels_olson