The certified nurse aide training schools that are open for enrollment in Nesquehoning, Pennsylvania are shown to you on this page. If you want to find out more about certification requirements, you can call the phone number provided or go to their address during working hours.
Lehigh-Carbon County College
24 East Locust Street,
Nesquehoning, PA 18235
(570) 669-7010
Becoming a nursing assistant is Pennsylvania is a wonderful career choice. Work is always stable in Pennsylvania's field of health. Newly certified nursing assistants don't have trouble finding jobs since their demand is currently high; which is why a lot of people are starting to ask questions on how to become one.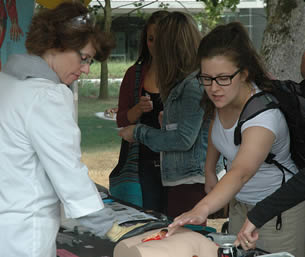 You have to be at least 16 years old or above to be employed as a nursing assistant in this state. You also need to get your name listed on the Nurse Aide Registry. People whose names are on the registry were able to meet federal and state training and testing requirements. Employers will only hire these individuals.
The first thing that needs to be done in becoming a certified nursing assistant is to clear the background checks for criminal records. The State of Pennsylvania always looks out for the best interests of their patients. Nobody is allowed to enroll in a certified Nurse Aide Training Program (NATP) without clearing the checks. A person who is living within the state, however, is allowed to work as an non-certified nursing assistant for up to 30 days while waiting for the exam results. Those who are out-of-state residents are allowed to work up to 90 days.
To save time, you can start looking for an NATP while waiting for the background check results. This way you can enroll as soon as you get the results. NATPs are being offered by different health care institutions and training schools. You can find them offered by hospitals, nursing homes, community colleges, and private training centers.
NATPs are required by the Department of Education to offer at least 80 hours of instructions. These hours must have both lectures and supervised practical training. The total number of practical training must not be less than 37.5 hours. While in the clinical area, the students must be handled or supervised by a certified instructor at all times. No student is allowed to perform a procedure without the presence of the instructor. The program is required to provide skill training in a clinical environment and theoretical instruction of fundamental nursing related procedures and duties.
Once you have completed your school requirement you will need to schedule a date to take the exams within 24 months. You can find facilities near you to take the test by calling the American Red Cross at 800-795-2350. The certification exams, consist of a written exam and a manual skills demonstration. You are required to pass both tests within 2 years after completing your training. You are allowed to retake any exam that you failed for up to 2 times within those years. If you still fail, then you must start all over from the top and enroll in another NATP.
The names of the candidates who took the exams and passed are entered into the Nurse Aide Registry. Once their names are entered, the registry will then send them their CNA or Registry Card. Names on the registry only remain for up to two years. To keep your name on the NAR, you must renew your certification every 2 years before it expires. No CNA is allowed to continue working with an expired registration.
This is a borough that is located in Carbon County. The name of the borough comes from the Native American language that is thought to mean "narrow valley". The community was once a part of Mauch Chuck Township. As of the last census taken, their total population had reached up to a total of 3,288 people with a population density of 155.4 / sq mile. The total area of the place is estimated to be about 21.6 sq miles, where the majority of it is land.
The health care clinics that are located in the area include Nesquehoning Family Practice, Mauch Chunk Massage & Bodywork, Manzella Family Healthcare, Blue Mountain Health System – Gnaden Huetten Campus, and plenty more. photo attribution: ufv