Students who wish to become instructed in how to become certified nurse aides in La Jolla, California can find the latest training available listed here. To receive more information about classes, program schedules, and steps required to achieve your CNA certification, please call the phone number provided. If you know of a CDPH approved school that is not included on this page, submit it to us for inclusion here.
Cloisters of La Jolla
7160 Fay Avenue,
La Jolla, CA 92037
(619) 459-4361
La Jolla Nursing and Rehabilitation Center
2552 Torrey Pines Road,
La Jolla, California 92037
(619) 453-5810
White Sand of La Jolla
7450 Olivelas Avenue,
La Jolla, CA 92037
(619) 454-4201
A Home Health Aide is basically a nursing aide that is allowed to work in a client's own residence. Like long term care nurse aides, you must first be certified in order to work as an HHA. The certification to become a home aide involves enrolling in a state-approved HHA program, passing the fingerprint Live Scan,and challenging the certification exam.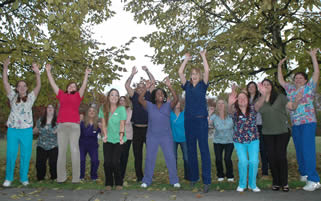 You are required to complete a CNA training program if you want to take the state license exams. These programs are being offered by colleges, high schools, and training centers. There are also some websites that offer online classes. Lectures will be conducted online will skills training will be done in a simulated environment.
HHA programs in California are offered in two types. You can choose to enroll in a 40-hour training program or a 120-hour program. Training in both programs will offer classroom instructions and practical training. You will cover different nursing concepts much like those covered in other CNA courses.
To receive information about whether a school is approved by the CA Department of Public Health you can contact the Training Program Review Unit at (916) 552-8873. For further information about the latest requirements, eligibility qualifications or other details call the CDPH at (916) 327-2445 or email them at cna@cdph.ca.gov.
When you are through with your course, the next step is to apply for the certification exam. You will need to fill out the application form and send it to your appropriate Regional Center. The HHA certification exams are handled by Pearson VUE. You can also visit their site and apply for the exams there. The exam will consist of both a written/oral knowledge test and a skills evaluation. You must pass both portions to get certified. Taking this exam is the only way to become a CA home health aide since the state does not accept reciprocity.
HHA certifications are valid for 4 years. By the time you renew your certification you must have completed 24 hours of in-service training or continuing education. You must meet 12 hours of in-service or CE every year.
Examples of acceptable CE classes include Anatomy, Physiology, Biology, Medical Terminology, Pharmacology, and many more. CEU's may only be taken at approved providers, community colleges, adult education programs or home health agencies. CEUs may be taken through CDPH-approved online computer training program. Please visit www.cdph.ca.gov to see a complete list of approved programs.
If you are also a current holder of a CNA certification, your in-service training or continuing education may also be accredited to the requirements for CNA renewal. When renewing, please submit this form (http://www.cdph.ca.gov/pubsforms/forms/CtrldForms/CDPH283a.pdf)along with the renewal forms (http://www.asisvcs.com/publications/pdf/070512.pdf).
This is a hilly seaside resort community that is part of San Diego County. It is located near the Pacific Ocean in Southern California. It has an estimated population of 31,746 people. You can also reach this city if you go north from Downtown San Diego or south of Orange County.
Examples of health care centers that you can find in the city include Westways Health Care LLC, Kaiser Permanente Health Care, Tommie's Home Health Care, Home Health Care Associates, Orng County H Ealth Care Agency; Bhvrl Health Service, Integrated Health Care Services, Angels Care Health Services Inc., Kaiser Permanente Health Care – Gi Lab, and Services Inc. Health. photo attribution: ufv