The nurse aide training found in Glendora, California is provided for you on this page. Included in the list are different schools that all have classes that are state approved. If you have any concerns, please do not hesitate to contact the phone number that is provided.
Citrus College Health Occupations
1000 W. Foothill Blvd.
Glendora, CA 91740
(626) 914-8720
Azusa Adult School-PM
1134 South Barranca Ave.
Glendora, CA 91740
(626) 852-8400
[AM And PM Classes Available]
If you are one of the many individuals who are aiming to become a nursing assistant, then it is important for you to know what the requirements are to get a CNA certification in California. Knowing the requirements will help make the process easier and faster.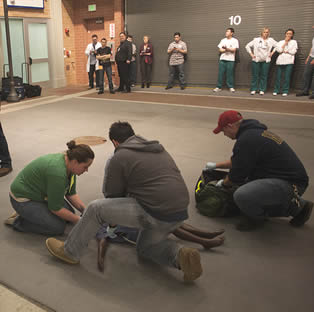 Like all certification process, it always begins by enrolling in a training program that is approved by the state. The California Department of Public Health is responsible for approving all training facilities that wish to start a program. Enrolling in a CPDH-approved program will guarantee that you will proceed to the next step of the certification process as soon as you complete your training.
The state requires that all training programs in the state offer at least 150 hours of both classroom and clinical training.  Every program is required to be headed by a licensed nurse with at least 2 years of nursing experience. The nurse must also have completed 24 hours of continuing education on implementing, planning, and evaluating nursing programs 6 months prior to the start of work.  Examples of the thing that students will learn in the program include basic nursing care, nutrition, vital signs, human anatomy, medical terminologies, and many more.
Upon completing a training program the aspiring nursing aide can now submit his Initial Application form (http://www.asisvcs.com/publications/pdf/070503.pdf) to the CDPH. Once the CDPH approves of his or her application, the next step is to submit the application form (http://www.asisvcs.com/publications/pdf/070508.pdf) for the certification exam, along with the payment of $90 for the testing fee.
Taking the certification exam is the final step in the certification process. Once the aspirant passes all the tests, he will receive a nurse aide certification from the ATCS a few days after passing. This certification will be valid for 2 years. During that time, the holder must work for at least 8 hours as a paid CNA and complete 48 hours of in-service training or continuing education.
The certification exam consists of a multiple-choice knowledge test and a skills evaluation exam. The knowledge test is initially a written test, but aspirants who have trouble reading English can request for an oral exam instead, for an additional fee of $15. The request must be made upon application. In order to get certified, the aspirant must pass all the tests within 2 years after completing his or her training.
Glendora is a municipality that is located in Los Angeles County. It is found a few kilometers east of downtown L.A. and has a population of 50,073. Other cities that are near Glendora are Azusa and San Dimas.
Included in the top employers in the municipality are East Valley Hospital Medical Center, Foothill Presbyterian Hospital and County of Los Angeles Department of Children and Family Services which has around 300-500 employees. Other health institutions include Save-On Medical Health Care (626) 914-5282, STD Test Express (626) 765-7582, Green Health Center (626) 852-1868, Mohan Dialysis Center (626) 963-3079, Citrus Health Center Citrus Health Center, and Serenity Healthcare Inc. (626) 914-6818. photo attribution: codnewsroom