The nurse assistant training centers in Fort Bragg, California are listed here. If you know other CA Department of Health approved certified nursing assistant classes available in the town, then send them to us so we can include them here.
American Red Cross
312 South Lincoln Street
Fort Bragg, CA 95437
(707) 577-7612
Becoming a nurse aide can be a rewarding job and a great way to get your start in healthcare. You get to work hand-in-hand with registered nurses and other members of the healthcare team in taking care of patients. You will use different basic nursing skills in assisting patients with their daily activities like bathing, feeding, dressing, exercising, and ambulating.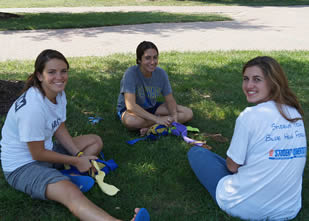 According to the law, only certified nursing aides are allowed to work long-term in a state-approved healthcare facility. The state's Aide and Technician Certification Section is responsible for certifying all nursing aides in California. If you wish to get certified by the ATCS then you must complete a 150-hour CNA training program and pass the National Nurse Aide Assessment Program examination.
CNA Training Programs
All institutions and schools who wish to offer CNA training are required to get certified by the California Department of Public Health first. Part of the requirement for certification is that they must offer no less than 150 hours of training. The hours must be divided into at least 50 hours of lectures and 100 hours of clinical practice. If an institution wishes to increase the number of training hours, the institution must provide a lesson plan and a schedule for the additional hours.
When you enroll in a  class you will be taught theoretical procedures in the classroom and skills training in a medical environment to provide you actual hands-on experience. Training programs must also teach 16 different modules that will include the following concepts:
•    Vital signs
•    Nutrition
•    Basic Nursing Care
•    Interpersonal Skills
•    Patient's Rights and Independence
•    Long-term Care Patients
•    Proper Body Mechanics
•    Human Anatomy
•    Medical Terminologies
National Nurse Aide Assessment Program Examination
Once you complete a state-approved training program, the next step is to apply for the NNAAP exam. You will need to submit your application form (http://www.asisvcs.com/publications/pdf/070508.pdf) to your local Regional Testing Center along with the payment fee of $90. Payments must only be in the form of a money order, company's check, or a cashier's check.
You are allowed up to 2 years to pass the certification exams from the time of your instruction. The NNAAP exam consists of a written/oral knowledge test and a clinical skills evaluation. Candidates who are able to pass all the tests within 2 years after completing their training will become certified and allowed to work in healthcare facilities. In case you fail a test, you are allowed to reapply and retake the test you failed up to two additional times. You must pass both parts to become certified as a nurse aide. You can learn more about certification eligibility by calling the California Department of Public Health at 916-327-2445.
To help you prepare for the exam, please visit www.pearsonvue.com or www.cdph.ca.gov and download a copy of the Candidate Handbook. This handbook contains the complete Skill List as well as a sample knowledge test.
Maintaining Your CNA Status
Nurse aide certifications are only valid for 24 months. To keep on working as a certified nursing aide you must renew your certification before it expires. To be eligible for renewal you must provide proof of employment as a nursing aide for at least 8 hours as well as the completion of 48 hours of in-service/CE. If you fail to renew your certification and let it expire, you will no longer be allowed to continue working as a nursing aide.
As of the latest census, the total population of the city is now 7,026. It located just a few miles west of Willlits. It is also located in the coastal protion of Mendocino County and is along State Route 1. The total are of Fort Bragg is 2.8 square miles and has a population density of 2,577.1 people per square mile.
Health care clinics that are located within the city boundaries include Dialysis Clinic Inc, North Coast Family Health Center, Mendocino Coast Clinics Inc – Dental Care, Doctor's Improving Health Care and the Mendocino County Mental Health Services – Outpatient Services. photo attribution: udalumni