The certified nurse aide classes that you can enroll in Claremont, New Hampshire are found here on this page. Those who complete a state registry recognized program are allowed to schedule a competency evaluation date to receive your license.
River Valley Community College
1 College Drive, Claremont, NH 03743
(603) 542-7744
http://www.rivervalley.edu/
A CNA license is a requirement to be able to work in the state as a nursing assistant. To get one, you must be able to gain entry into the NA Registry by passing the LNA exams. Before you can become a nursing assistant, you must get your license.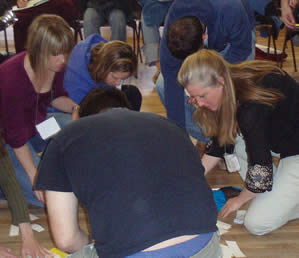 You can only take on the state license exams if you pass a CNA training program. These programs take 2 to 3 months to complete. Courses must meet the standards of the state registry, be approved for instruction and provide the mandatory hours of instruction, which is currently set at 144 hours.
If you pass the course, you can apply and take the license exams. The exams will be composed to two parts. The LNA examinations comprise a written/oral exam and a skills evaluation on the different nursing skills that were taught in the training.
The first part will be a practical demonstration that will last only for a few minutes. The second part, which is the longer part, is the written exams. You must pass both parts to get your license. Out of all the nursing skills, only a few are randomly selected and asked to be performed. To gain entry into the exams, you must pass all the tests.
Once your name is entered on the NAR, you will then get your license. The nurse aide licenses in New Hampshire are valid for 24 consecutive months. The license status must remain active to be allowed to work in a long-term care center. To renew your license, you must work for at least a day within tht time, as a paid nursing assistant.
This city is in Sullivan County. The name of the city was taken from the name of the mansion of Thomas Pelham-Holles, who was the Earl of Clare. Major roads that are accessible from the city include Interstate 89, Interstate 91, and State Routes 12, 11, 120, and 103. According to the census of 2010, their total population was around 13,355 people. They have a population density of 300/sq miles. Claremont has a total area of approximately 44.1 sq miles, where only 1 square mile of it is water.
The Health care providers whose services you can avail are found here. They include Counseling Center of Claremont, West Central Behavioral Health – Claremont Child & Family Center, River Valley Associates, Elm Wood Center, West Central Behavioral Health – Counseling Center of Claremont Adult, and Carlson John F Doctor of Osteopathi. photo attribution: create-learning