Those who want to become certified nurse aides can find eligible training in Burgaw, North Carolina listed on this page. These classes are approved by the state for certification exam preparation. For more information about enrolling in a school, program requirements, or classroom tuition costs, please contact the number provided.
Cape Fear Community College/Burgaw Campus
100 Industrial Drive
Burgaw, NC 28425-5081
(910) 343-0481
http://www2.cfcc.edu/
There are plenty of opportunities for those who want to pursue the career of a nursing assistant or nurse aide. The growing demand for healthcare workers in not only growing in North Carolina but all over the country. The increased number of older people in the population has created a bigger demand for nursing assistants.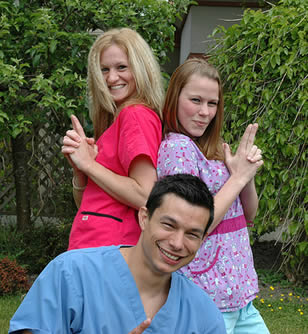 The scope of work that a nursing assistant can do is fairly limited. They are only allowed to perform procedures to the patients that are delegated by registered nurses. Before a nurse delegates a task, he must consider:
•    If the task performed is frequent in the daily care of the patient
•    If the task performed is done according to an established series of steps
•    If the tasks do not involve any modifications from one client to another
•     If the tasks' outcome is predictable
•    And if the tasks do not involve any on-going assessment and does not endanger the patient.
According to the North Carolina Board of Nursing, a nursing assistant may only do certain procedures that involve personal care like bathing or dressing, body mechanics, nutrition, elimination, promotion and maintenance of safety, and routine tasks such as vital signs taking and deep breathing and coughing exercises.
To increase your scope of duties and responsibilities, you will need to get advance certifications that are only available for registered nursing assistants. For example, you could train to become a CMA or a medication assistant. These are nursing assistants who are trained to administer selected medication while still under the supervision of a registered nurse.
Training to be a CMA involves you enrolling in a 24-hour CMA training course and taking the competency exam. The CMA competency exam is also conducted by Pearson VUE, so if you want more information about the exams, you can go to www.pearsonvue.com.
There are also different certifications that you can try out. If you love taking care of the elderly and want to increase your knowledge and skills, you can complete a N.C. geriatric aide training course. Since there is no state exam to be a geriatric aide, once you complete your course, your name will be added to the Geriatric Aide Registry and your record on the NAR will also be updated.
This town is the county seat of Pender County. It is a part of the Wilmington Metropolitan Statistical Area. According to the latest census, their total population has reached over 3,337 residents. This town has a total area of approximately 3.4 sq miles, where all of it is land. Its population density is 971.6/sq mile.
Examples of health care centers that you can find here include Huntington Health Care & Retirement Center, Surgical Medical Clinic, Highsmith Community Support, Nasrallah Naseem MD FACS, Black River Health Services, Interim Healthcare of The Eastern Carolinas, Mental Health Center, Well Care Home Care, and Murphy Timothy G Doctor of Osteopathi. photo attribution: ufv