The approved schools in Wytheville, Virginia where one can find nurse aide programs that are available for enrollment are listed here. Those who are interested in learning more about how to become certified can contact the institution using the phone number below.
Wythe County Technology Center
1505 West Spiller Street
Wytheville, VA 24382
(276) 228-5481
The demand for nursing assistants in Virginia is at its all-time highest. If you're planning on entering the field of health as a health care provider, then now is the best time to do so. The great thing about the process of becoming a nursing assistant is you won't have to spend years of training to become one.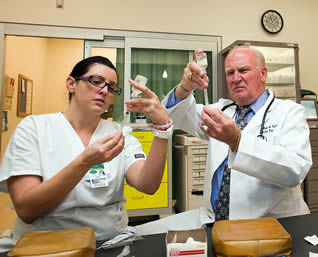 The first thing you must do is to look for a training program to enroll in. There are numerous programs that are offered by different health care institutions and schools. You just have to make sure that the program is approved by the state's Board of Nursing. The BON is in charge of monitoring all programs in Virginia.
Approved programs are required to provide at least 75 hours of training to their students, though many of them offer more than the required time. CNA training consists of theory and practical training. While in the clinical area, the students will be placed under the guidance of a registered nurse who is trained to handle nursing aide students. An approved CNA program will prepare the students to handle the different situations that they might encounter once they become a full-time nursing aide.
Upon completing your training, the next step is to apply for the NNAAP exam. This exam is designed to test all aspiring nursing aide candidates in terms of knowledge and skills. It is a two part examination that is divided into multiple-choice written/oral knowledge test and a random clinical skills evaluation. Both tests must be passed in order to get a CNA certification.
A nursing aide from another state can transfer his or her certification and work in Virginia through endorsement. Applicants who meet all the requirements may no longer be required to take a test. To be eligible, the applicant must have a current certification and a clean record. He or she must not be on the Abuse Registry.  The exact duration of the endorsement process can vary depending on how fast the applicant's state can produce proof of certification.
There are plenty of opportunities waiting for those who are in this line of work. If you want to increase your chances, then you should try to get an advanced CNA certification. All you have to do to get one is to complete a state-approved advanced training program for nursing assistants and apply for a certification by sending the application form to the BON.  You can get more information by visiting www.dhp.virginia.gov.
This town is the county seat of Wythe County. According to the census of 2010, their total population had reached up to a total of 8,211 people. It has a total area of about 14.3 sq miles and has a population density of 575/sq mile. Wytheville was named after George Wythe, the "father of American Jurisprudence".
Examples of health care centers that you can find in the area include Brock Hughes Free Clinic, Wythe Family Care Center, Mt Rogers Mental Health, Carilion Health Care, Family Preservation Services, Advanced Health Service, and many more. photo attribution: codnewsroom