The schools for nurse aides in Richlands, Virginia that are open for enrollment are listed on this page. If you know other certified nursing assistant classes that are being offered in the city, please contact us and we will add them to the page.
Southwest Virginia Community College
P.O. Box SVCC,
Richlands, Virginia 24641
(276) 964-2555
There are a lot of people who are thinking about becoming nurse aides. Before a person can work as one he or she must get a certification. Knowing the requirements will help make the process much easier.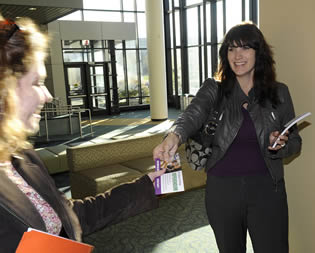 General Requirements:
–    Be at least 16 years old
–    Read, write, speak, and understand English
–    Be physically fit and mentally healthy
–    Free of any communicable diseases (i.e. Tuberculosis)
–    Pass the national criminal background checks
–    Complete a state-approved CNA program
–    Gain entry into the Nurse Aide Registry by passing the NNAAP exam
CNA Training
Completing a nursing assistant training program that is approved by the Board of Nursing will qualify you to apply for the NNAAP exam. Approved programs in this state are required to offer at least 75 hours of training. Like any other program, the hours are divided into theory and supervised clinical practices. Students are placed in the care of a registered nurse with enough nursing experiences working in a long-term care facility while they are in the clinical area.
Nursing students, graduates, and individuals who completed a CNA program from another state are allowed to apply directly for the NNAAP exam without the need for any additional training. When submitting their applications, they might be required to provide proof of their training and/or education to the Board of Nursing.
National Nurse Aide Assessment Program Exam
The NNAAP exam is divided into two parts – a 70 item multiple-choice test and a random skills evaluation. Both these tests are given on the same day at approved testing centers. Due to the number of people who wish to work as nurse aides, the state has asked Pearson VUE to help conduct, score, and release the exam results. The exam results are normally released on the same day if there are no technical problems. Candidates who are able to pass both tests will gain entry into the NAR and receive a nurse aide certification from the Board of Nursing.
Applying for CNA Endorsement
A nurse aide from another state can transfer and work in Virginia without the need to take the NNAAP exam. Applicants must be currently certified and have a good relationship with their state. They must not have any records of patient abuse, neglect, or misappropriation of a patient's property. Interested applicants can get the necessary packets by going to: www.dhp.virginia.gov/nursing.
The length of the endorsement process varies from state to state. It mostly depends on how long it can take your state to provide official verification of your certification as a nurse aide.
This town is a part of Tazewell County. It is also a part of thee Bluefield, WV-VA micropolitan area. According to the latest census, their total population was around 4,144 people. Richlands had a total area of about 2.7 square miles where all of it is land. It has a population density of 1,566/sq mile.
Health care providers whose services you can avail in the city include Preferred Home Health Care, Clinch Professional Physician Services, Clinch Valley Physicians Clinch Valley Clinic, Community Health Clinic, Tri County Health Clinic, Bender Lawrence DO, DR Mrugendra Patel, and many more. photo attribution: codnewsroom