The nursing aide school courses in Mountain City, Tennessee that are shown here have all the information that you will need to become certified to work in this state. Classes listed below are authorized by the TN Department of Health for enrollment.
Mountain City Care and Rehabilitation Center
919 Medical Park Drive,
Mountain City, TN 37683
(423) 727-7800
If you are planning on entering the medical field, then you should consider becoming a CNA. This profession is currently in demand because of the high number of people that need help in their daily activities due to the rising elderly population. As a nursing aide, you get to help people with the use of the basic nursing skills that you will learn in a training program.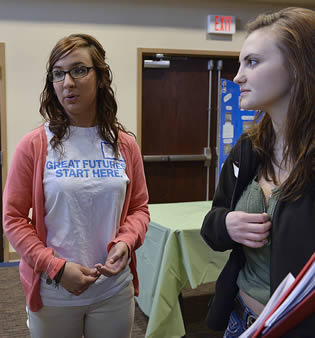 The Nursing Home Reform Act was created to improve the quality of care that patients in different nursing facilities receive, especially from nursing assistants. To ensure that they receive top quality care, any person who wants to work as a CNA must undergo proper training. That person will then be tested in the certification exam to determine if he is capable of meeting the standards expected of a nursing assistant.
To receive proper education and training, applicants must only enroll in a program that is approved by the state's Department of Health. These programs are required to offer a minimum of 75 hours of training and to teach 25 different nursing skills. Their curriculum is divided into classroom lectures, at least 16 hours of clinical practice. Students must only be handled by qualified clinical instructors. Before the students are to handle any patients, they must spend 16 hours learning different concepts like communication skills, infection control, patients' rights and independence, and safety and emergency procedures.
After the applicant completes his training he will become a nursing assistant, but in order for him to work in Tennessee, he will have to challenge and pass the certification exam. By passing the certification exam, nursing assistant will gain entry into the Nurse Aide Registry and will be certified. The exam consists of a 75-item knowledge test and a random skills test. The nursing assistant must perform all 5 nursing skills with 80% competency and at least 75% in the knowledge test to get into the NAR.
Another way of getting into the NAR is by applying for reciprocity. This process is only for nursing assistants who are already listed in another state's NAR. When applying, the applicant must have a clean record and a valid certification. The requirements for applicants coming from Georgia, Florida, and North Carolina are different from the rest of the states. To know more, please call (800) 778-4504.
Once placed in the Registry, a nursing assistant will become certified and will receive his certification within 4-6 after being placed there. The CNA certification must be renewed every 24 months to keep one's name on the Registry. One of the requirements for renewal is to provide proof of employment such as a pay stub, a notarized letter from the employer, or a printout of payroll. The nursing assistant will need to send this along with the renewal form, and a copy of his social security card.
The town of Mountain City is the county seat of Johnson County. It was first settled by the explorers during the late 17th century. It was once part of Carter City. As of the latest census, their total population was around 2,383 people and they had a population density of 720.8/sq mile. The total area of the town is estimated to be about 3.3 sq miles, where all of it is land.
Examples of health care providers and clinics that are located in the town area include Mountain City Medical Center, Mountain States Health Alliance – Johnson County Health Center, Rural Health Services Consortium Inc., Mountain City Extended Hours Health Center, and Phoenix Medical Products Inc. photo attribution: westconn