The nurse aide classes open for enrollment by schools in La Puente, California are provided in the listing. If you have any questions regarding the programs like cost, schedules, and other matters, just contact the phone number or go to the office at the address provided.
Hacienda La Puente Adult Education
14101 East  Nelson  Ave.
La Puente, CA 91746
(626) 934-2800
[Day And Evening Classes Available]
It is important to learn the basic nursing procedures and the necessary concepts that come along with them before actually taking care of any patient. This will help safeguard that the quality of care that the patients receive from their healthcare givers are top quality. That is why the first step in becoming a nursing aide in California is to enroll in a state-approved CNA course.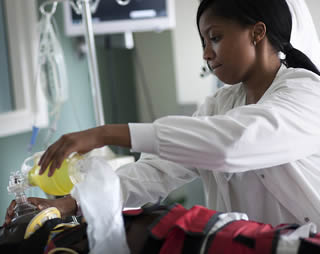 Requirements to enroll in CNA classes:
•    Age: at least 18 years old
•    Education: high school graduate or possess a GED certificate
•    Background: must pass the federal and state criminal background checks
•    Health: physically capable of taking care of the patients and free of communicable ailments
•    English: must understand and speak English
CNA training in California consists of 150 hours of lectures and practical training. All programs in the state are headed by qualified instructors with at least 2 years of nursing experience and have backgrounds on teaching nursing aide students. To allow maximum learning experience for the students, they will be divided into 15 members per group. During the training period they are not allowed to perform any procedure without the knowledge of their instructor, or if the procedure has not yet been taken up in class.
Most training courses in the state can be completed within 2 to 6 months depending on the course you choose. Upon completion you will be granted eligibility to apply for the National Nurse Aide Assessment Program exam or NNAAP exam. Taking this exam is the final step in becoming nursing aide. If you pass all the tests you will receive a CNA certificate from the ATCS. Potential employers will always look for this certificate every time you apply for work.
The certification exam is divided into two parts – the written knowledge test and the skills evaluation exam. Those who have trouble with reading can request to take an oral exam for the knowledge test. The initial fee is $90, but there is an additional fee of $15 for those who want to take the oral exam.
In the event that you fail to pass one test, you will be allowed to reapply and reschedule for a retake. You can only do this twice within 2 years after you complete your training. If you do not pass the tests within the 3 attempts or within 2 years after your training you will be required to complete another 150-hour training course.
La Puente has a population of 39,816 as of last year's census. It is located 15 miles from Downtown Los Angeles in San Gabriel Valley. According to the US Census Bureau this city has a total are of 3.5 square miles where only 1% of it is water.
CVS/Pharmacy is one of the top employers in the city with over 50 employees. Health centers in the city include La Puente Dialysis, Rebueno Medical Clinic, San Gabriel Valley Training Center Residential Facility, Enki Medical Services, Whittier Hospital Medical, The Children's Clinic, Rcn Pediatric Care II, Rcn Pediatric Care II, Baart Addiction Research and Treatment, Clinica Medica San Pedro, Bienvenidos Childrens Center Inc, Clinica Medica Del Sol Group, Nogales Medical Clinic, Le Medileur Health Care Services, and Rcn Pediatric Care. photo attribution: codnewsroom