The schools in Keysville, Virginia that offer training to work as a nurse aide can be found below. During instruction you will gain experience in handling patients, using health care skills and learning the theory to be successful on the job.
Southside Virginia Community College
200 Daniel Road
Keysville, VA 23947
(434) 736-2000
Virginia is one of the best places to start working as a nursing assistant. The demand for the profession is very high. This high demand has made a lot of healthcare and training facilities to start offering vocational courses. This means that you won't have any problems looking for a suitable course to enroll in.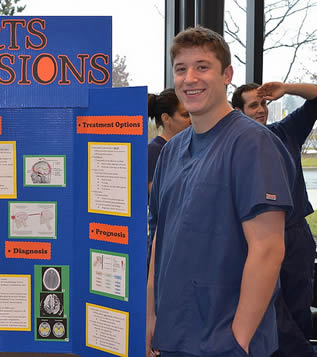 What makes a great CNA?
Well, genuine care for other people is one of the top things that will make you a great nursing assistant. If you love what you do, you're surely bound to excel at it, or look for ways to constantly improve yourself. This desire to help will also be very beneficial since the tasks that a nursing assistant does can vary from time to time, and can be a difficult for most people.
What are the requirements to be a CNA?
A person can only work as a nursing assistant in Virginia if he has a nursing assistant certificate that's issued by the state's Board of Nursing. The main goal of the Nursing Assistant certification process is to get your name into the Nurse Aide Registry. Even with a certificate, employers will still check if your name is on the Nurse Aide Registry. They will only hire those whose names are still in the NAR.
How do you get your name into the NAR?
There are two ways to do this, unfortunately, the other one is only for individuals who are already certified nursing assistants from other state. The only option left is to take the National Nurse Aide Assessment Program examination (NNAAP Exam).
Before you can take the NNAAP exam, you must successfully complete a state-approved training program that's approved by the state's BON. Nursing students and graduates are also allowed to apply for the exam even if they do not complete a program.
What is the National Nurse Aide Assessment Program Examination?
This is a two part exam that was developed to test the competency of all nursing assistant candidates. It consists of a multiple-choice knowledge test and a practical skills evaluation. This test will help assure that patients will only receive quality care from nursing assistants. Candidates must pass both tests in order to get into the NAR.
If a candidate fails, he or she can reapply and reschedule to try again. During the retesting, the candidate will only be required to take the test that he or she failed. Unlike most states, there is no limit on who many times you take the exam, just as long as you pass within 2 years from the first time that a candidate takes it.
This is a town that is a part of Charlotte County. It is a town that is well surrounded by tobacco and other crops. According to the latest census, their total population had reached up to a total of 817 people. It has a total area of about 1.2 sq miles and has a population density of 694.0/sq mile.
Health care centers that you can find in the area include DDC- DNA Diagnostics Center, G & G Treatment Center, Nurse Advantage, Martin Monument Co, Martin Monument Company, Community Chiropractic PLC, and Satori Medical Center Inc. photo attribution: codnewsroom