The nurse aide school programs that are being offered in Greenfield, New Hampshire are found here. Applicants will need to enroll in and complete a state recommended course to be allowed to set a testing date for certification. Call the facility for further details about how to qualify.
Crotched Mountain Rehabilitation Center
1 Verney Drive, Greenfield, NH 0303047
(603) 547-3311
http://www.cmf.org/
Before you are able to work as a nurse aide in New Hampshire, you must first get a CNA certification, which is only acquired by getting on to the Nurse Aide Registry. There are two ways for you to get a person's name on the Nurse Aide Registry.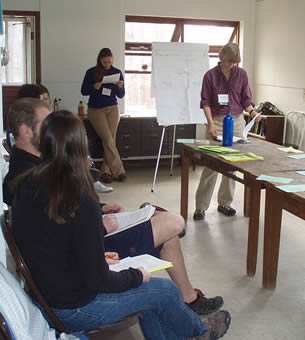 One option is to apply for and challenge the LNA examinations. These exams are only available to those that have received the proper education and training to take care of the patients as a nursing assistant. You can enroll in a state-certified training program, which takes 8 to 12 weeks to complete. After you complete it, you can then apply for the exams. Courses must be state-approved CNA training classes. While in the class, you will be spending a few hours on lectures and clinical exposure. If you meet the minimum set of hours that is required by the state, you can then finish the program. Once you complete the program, you are then eligible to take the state examinations.
When one applies, there will also be other requirements that must be submitted. Examples of such include 2 passport size pictures, 2 fingerprint cards, proof of immunizations, and a negative result in the TB tests. It is important that the nurse aide must not have any communicable diseases so that the patients will not get infected.
Another way to get into the state's Registry is to apply for reciprocity. Reciprocity is the process in which a nurse aide from a different state is given authority to transfer and work in a different state. When applying, the applicant must be able to pass both the Federal and State background check.
This town is a part of Hillsborough County. It was originally named as Lyndeborough, which was taken from the Lynde family, who were one of the earliest settlers in the area. According to the census of 2010, their total population was estimated to be around 1,749 people. They have a population density of 66/sq mile. The total area of the town is estimated to be 26.6 sq miles, where only half of a square mile of it is water.
Health care centers and providers that are found in the area include Crotched Mountain Rehab Center: Chiappini Rocco MD, Plow Share Farms, Karen L. Hoffman, CCC, David Scott, PTA, Monadnock Ob/gyn Associates, Christina Wolf Acupuncture, and many more. photo attribution: create-learning