The nurse aide schools in Campbellsport, Wisconsin that are currently open for enrollment are all shown on this page. Included on this page are all the certified nursing assistant classes that are approved by the state of Wisconsin towards certification requirements.
WISCONSIN CNA TRAINING CENTER
PO BOX 425
CAMPBELLSPORT, WI 53010-
(920) 979-4428
www.wisconsincna.com
A person can only work as a nursing aide in Wisconsin if he has a CNA certification that was issued by the state. A person will only be given a certification if his name is on the Nurse Aide Registry. Only individuals who were able to meet federal and state training and testing regulations are allowed to get into the NAR.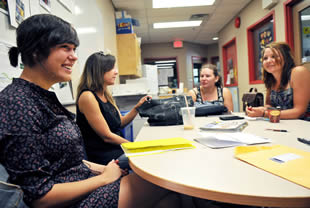 If you had never previously been certified before as a nursing aide, then the only way for you to get into the NAR is by passing the National Nurse Aide Assessment Program Examination. The NNAAP exam was designed to determine if a nursing aide candidate is competent in terms of knowledge and skills. The NNAAP exam is divided into a multiple-choice written/oral test and a skills evaluation exam. The NNAAP exam complies with the Americans with Disabilities Act and provides special accommodations for those who need them when taking the exam.
Before you can apply for the exam, you must first establish eligibility by successfully completing a state-approved training program. Completing a course is a common way to qualify for the  exam. Approved courses consist of a minimum of 120 hours of which 32 hours are allocated for practical training. Training courses in this state take around 2 to 6 months to complete.
Nursing students and graduates who wish to become nursing aides are welcome to apply for the NNAAP exam. Their training will allow them to immediately apply for the exam and take the exam without the need for further training. Military trained medics and corpsmen are also allowed to take the exam.
If a candidate passes both tests within 3 attempts or within one year after applying for the exam, then his/her name will be entered into the Nurse Aide Registry and he/she will be given a CNA card. Names on the Registry will only remain there for 2 years. Certified nursing aides must renew their certification to remain eligible to work in a federally certified nursing facility. They will be required to provide proof of employment for at least 8 hours as a paid nursing aide, while under the supervision of a registered nurse.
This is a village that is in Fond du Lac County. You can find the Milwaukee River just east of this village. According to the census of 2000, their total population was around 1,913 people. It has a total area of approximately 1.2 sq miles, where all of it is land. Its population density is 1,642.0/sq mile.
Health care centers that you can find in the area include Transtar Medical Transport, Campbellsport Clinic, Fabricius Thomas, Schlaefer Optometrists, Krebs Chiropractic Office, Fond Du Lac Regional Clinic – Campbellsport Clinic, Moos Daniel K, and many more. photo attribution: ufv