You can find the available nurse aide programs in Trenton, Missouri shown to you in detail on this page. If you know other classes that have met the approval of the state registry that are being offered as of this moment, send them to us and we will add them to the page.
North Central MO College  (NCMC)
1301 Main, Trenton, MO 64683
660 359-3948
http://www.ncmissouri.edu/default.aspx
The pathway to becoming a certified nursing assistant requires that you receive training for the job, or challenge the examination without taking a course. All applicants are required to take the two part examination to become licensed to work. Typically one would enroll in a class program to gain the required experience.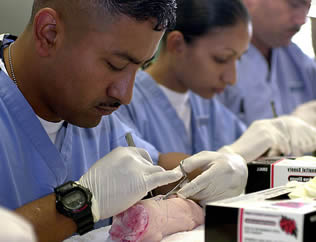 CNA classes must be recognized by the state and offer the proper amount of hourly instruction and skills training. Currently programs must provide 75 hours of school coursework and lectures and 100 hours of clinical skills experience to qualify. Afterwards the student can apply to take the exams after which they receive their certification and are listed on the state registry for a period of 24 months. some opt to try to challenge the examination without taking a course. Usually this option is reserved for those with a health education background or other experience. To learn more about the current requirements you can contact the Missouri Department of Health and Senior Services at 573-526-5686.
The increase in the demand for nursing aides has also caused an increase in job opportunities for other members of the healthcare team. This is very particular for registered nurses who want to become either a CNA instructor or a clinical supervisor. According to the law, nursing aide instructors must be a Registered Nurse in the state of Missouri with a minimum of 2 years of experience. The RN must also have at least 1 year of experience working in a long-term healthcare facility within the past 5 years.
The final requirement is that those who want to become an instructor must take the Train-The-Trainer training program. These courses are designed to teach individuals to become a certified instructor and/or clinical supervisions. When they are done with the course they will be able to teach CNAs, CMTs, LIMA and Insulin Administration. These courses are taught by and should only be learned from approved associations.
Trenton is the county seat of Grundy County. As of the census of 2009 it has a population of 6,006. Trenton claims that it is the largest producer of Vienna sausages in the world. It was founder back in 1834 as was known at that time as Lomax Store. Its total area is approximately 6.1 sq miles and has a population density of 1,065.5/sq mile.
Examples of health care centers and providers that you can find in the city include Wright Memorial Hospital, Mangalat Narayanan MD, McClure Phillip DO, Wright Memorial Hospital – Custer Clinic, Ryan David L MD, Take Care Clinic at select Walgreens, Preferred Family Healthcare Inc., and North Central Mo Mental Health Center. photo attribution: militaryhealth