You can see the nurse aide programs enrolling for applicants in Shell Lake, Wisconsin shown on this page. These health care training classes are all open for enrollment and meet the requirements of the state registry. For more information about these course, please call the number below.
Wisconsin Indianhead Technical College – Ashland
505 Pine Ridge Dr
Shell Lake, WI 54871
(715) 209-7847
www.witc.edu
(Multiple classes are available)
Stability is one of the things that everybody considers when looking for a job. The field of healthcare will always have stable work for health care will always be a necessity. Training to become a nursing aide in Wisconsin is a great way to enter this field. The state has a growing demand for entry-level professionals because of the increasing number of elderly in the population.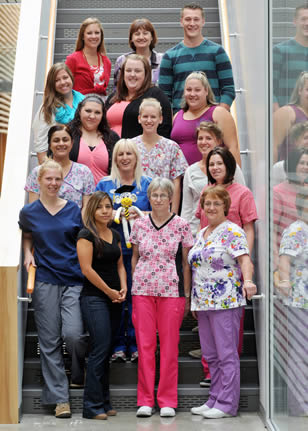 What is a Nursing Aide?
Nursing aides are individuals who are trained to provide and maintain basic nursing and nursing-related care to patients who are in hospitals, nursing homes, and long-term care facilities. They can be found in almost any healthcare setting, including the patient's own home. They work under the supervision of registered nurses and other members of the health care team.
How do you become one?
The Nursing Home Reform Act requires all aspiring nursing aide candidates to undergo proper training and get certified before working in a certified healthcare facility. You can only get certified if you gain entry into the Nurse Aide Registry. The most common way of getting into the NAR is by passing the National Nurse Aide Assessment Program Examination (NNAAP Exam).
National Nurse Aide Assessment Program Examination (NNAAP Exam)
This test was designed to test the competency of every aspiring nursing aide in the United States. The exam consists of a multiple-choice knowledge test and a skills evaluation exam. Aspirants must pass both tests in order to gain entry into the NAR and receive a nursing aide card. Only individuals who received proper training are allowed to apply and take the exam. Aspirants are given three attempts to pass. If they fail their 3rd attempt, they will have to undergo retraining before they can reapply once again.
Nursing Aide Training
You can get the necessary training that you need by enrolling in a state-approved CNA program. Programs in Wisconsin are required to last at least 120 hours of which 32 consists of supervised clinical practice. Depending on the program you choose, it can take you from 2 to 6 months to complete your training.
Suitable training programs can be found offered by the following:
–    Hospitals
–    Nursing Homes
–    Assisted Living Centers
–    Community Colleges
–    Vocational and Technical Schools
–    Private Training Facilities
–    Government Organizations
Unlike some states, WI doesn't consider individuals who completed online courses to be eligible to apply for the NNAAP exam for online courses do not have any clinical trainings. You can find the list of approved programs in Shell Lake on this page. You can find other approved training programs by following this link: http://www.dhs.wisconsin.gov/caregiver/pdffiles/NAtrgProgs.pdf.
This city is situated in Washburn County Wisconsin. It is also the county seat of Washburn. According to the latest census, their total population was around 1,309 people. Shell Lake has a total area of approximately 10.2 sq mi, where 4 square miles of it is water. Its population density is 211.3/sq mile.
Examples of health care centers and providers that you can find in the area include Take Care Clinic at select Walgreens, Soar Counseling Services, Glenview-Meadowview, Redfall Margaret E MD, Dunham Jeffrey L MD, Indianhead Medical Center, Haesemeyer Allan J, Dunham Jeffrey L MD, and many more. photo attribution: ufv