Nursing aide courses that are available for enrollment and located in Philipsburg, Pennsylvania are listed in detail here. To find out more about class requirements, please call the number provided below.
Windy Hill Village of Presbyterian Homes
100 Dogwood Drive,
Philipsburg, PA 16866
(814) 342-8400
There are plenty of ways on how to start a career as a health care provider. One of the fastest and easiest ways is to become a nursing assistant. As a nursing assistant, you will work under the watchful eyes of licensed nurses or licensed practical nurses. Although they might work under the supervision of RNs and LPNs, nursing assistants are important members of the health care team.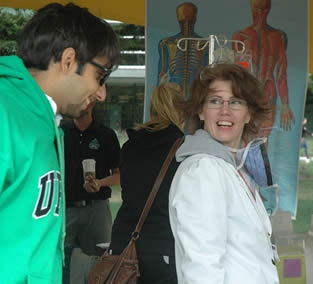 All you need to become a nursing assistant is to enroll in a CNA program. Since this has recently become a popular profession, there are now numerous training programs that are being offered all across the state. You just have to make sure to enroll in a program that is approved by the Department of Education. In addition you must be at least 16 years old, and undergo physical examinations to determine if you are physically capable of taking care of the patient.
Approved programs are required to teach at least 42.5 hours of lab and classroom instructions and 35.5 hours of hands-on training. Students will be taught important concepts such as medical terms, infection control, safety measures, human anatomy, mental rehabilitation, therapeutic communication techniques, and patients' rights and independence. Students will also be trained in basic nursing procedures like emergency care, feeding with the use of NGT, vital signs taking, catheter care, assisting with ambulation, performing passive ROM exercises, and many more.
After you complete your training, you will become a nursing assistant; but this isn't enough to start a career. You can only work as a nursing assistant if your name is on the Nurse Aide Registry. You will need to take and pass the CNA exams to get listed on the NAR and become certified. Employers will only hire certified nursing assistants, and are required to verify each applicant's certification before hiring. After you have finished a school course you have up to 24 months to schedule a time to take the test. You can call the American Red Cross to find a testing location by calling 1-800-795-2350.
The nurse assistant exams in Pennsylvania are scheduled and conducted by the American Red Cross (ARC). Pearson VUE helps conduct the exams, as well as score them. Applicants can get the appropriate application forms by either calling the ARC at (800) 795-2350 or by going to www.pearsonvue.com. These exams are conducted at approved testing sites. You can view these sites' locations and available testing dates to choose which one is the most convenient for you.
The exams consist of a written/oral exam and a manual skills demonstration. Applicants have 2 hours to answer the 70 multiple-choice questions on the knowledge test and 30 minutes to perform 5 randomly selected nursing procedures in front of a CNA Evaluator. An applicant will only get on the Nurse Aide Registry if he or she passes both tests.
After you complete your tests you are added to the state nurse aide registry for 24 months. To remain listed there you will need to submit work verification for each 24 month period. Verification must be working a minimum of one 8 hour shift. You can find out more information about the registry requirements and conditions by calling Pearson VUE at 1-800-852-0518.
There are actually three places in the in state that is named as Philipsburg. This Philipsburg is a borough that is located in Centre County. The name of the community was named after one of the original settlers in the area. Philipsburg is included in the State College, Pennsylvania Metropolitan Statistical Area. According to the census of 2010, their total population had reached up to a total of 2,770 people. The borough has a total area of approximately 0.8 sq miles, where all of it is land.
There are quite a number of health care providers that are found in the area; they include Nartatez Mark A DO, Meadows Psychiatric Center, American Women's Health Services, Ucbh Clearfield-Jefferson Crisis, Casteel Chiropractic Clinic, Stetz Drew J DO, Kidney Care Services, and The Caring Healthcare Network. photo attribution: ufv