Those interested in becoming a nurse aide can find the eligible programs in Grantsboro, North Carolina listed here. Schools shown are all currently open for enrollment. If you have any questions about enrolling in their instruction, program curriculum, or school schedules, just call the number that is provided below.
Pamlico Community College
5049 Hwy 306 South, Grantsboro , NC 28529
(252) 249-1851
http://www.pamlicocc.edu/
There are an increasing number of individuals who want to pursue a career as a nursing aide. This is one of the best ways to enter the medical field because of its practicality. Compared to other course, the training and certification process to be a CNA is cheaper and faster.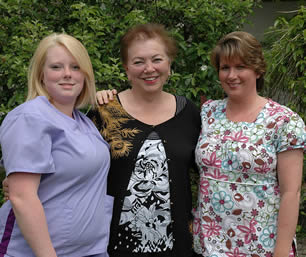 To start working as a nursing aide, you must have a certification, which can only be acquired by passing the National Nurse Aide Assessment Program exam. To prepare you and make you eligible to take on the exams, you can enroll in a state-approved CNA training course. All you need to complete the course is to meet the required 75 hours of training and pass the course's final exam. Depending on which program you wish to enroll in, you can complete your training in a matter of 4-6 months.
Not only will completing a state-approved training program make you eligible to apply for the NNAAP exams, it will also give you the opportunity to work for compensation as a nursing aide for up to 4 months while you are still waiting for your exam date. If you get hired by a Medicare/Medicaid nursing facility, then your testing fees will be completely free. All the charges for the exams will be paid by your employer.
The NNAAP examination is composed of two parts. The first part is the knowledge test which may be given either in a written test or an oral test. The oral test can also be taken in either English or Spanish. The second part is the clinical skills exam. In this part of the exam, you will be asked to perform 5 randomly selected nursing skills in front of a nurse aide evaluator. If you pass all the tests, your name will be on the Nurse Aide I Registry and you will get your certification.
You must keep your certification valid in order to remain eligible for employment as a CNA. To be eligible for renewal, you must work for at least 8 hours as a paid nursing aide while under the supervision of a registered nurse. Please renew your certification before it expires. An expired certification can no longer be renewed. If you wish to work as a nursing aide after your certification has expired, you must undergo retraining and retake the competency exam again.
Grantsboro is a town that is situated in Pamlico County. This town was incorporated in 1997. According to the 2006 census, their total population at that time was around 729 residents. It is also a part of the New Bern, North Carolina Micropolitan Statistical Area. Major roads that you can access to get to this town include North Carolina Highway 55 and North Carolina Highway 306. This town has a total land area of about 3.85 sq. miles and a population density of 182.41 people per sq. mile.
Health care providers that you can find serving this town include G & G Treatment Center, Walgreens Home Medical, Trusted Hands, Diabetes Care Club, Mylander Andrew D DMD, Visiting Angels, Down East Medical Supply, Carolina Orthopedics & Sports Medicine, CPAP, Family Medical Supply, Coastal Carolina Health Care, PA, Home Life Care Inc., and many more. photo attribution: ufv