The state licensed nurse aide programs in Austell, Georgia that are currently open for enrollment are shown on this page. If you have any questions contact the program director using the phone number below.
Unihealth Post Acute Care
1700 Mulkey Rd.,
Austell, GA 30106
(770) 941-5750
Website: http://www.uhs-pruitt.com/
One of the most important requirements that you must complete is receiving the proper training. To ensure that your training will be top quality, you should make sure that the CNA program that you enroll in is approved by the Georgia Medical Care Foundation. This requirement was made to ensure the improvement of the quality of care that is given by nursing assistants. Depending on the program you select, it will take you approximately 2 to 6 months to complete. You have the option to enroll in a technical college, community training center, nursing homes, or another type of institutions.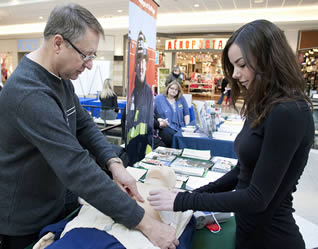 Certified programs by the GMCF offer their students a minimum of 85 hours of training. Among all of the hours, 24 hours of it is allocated to clinical duties. A student may only proceed to the clinical rotations if the student gets a 100% in the lab. The students will also undergo classroom lectures on the different concepts of the fundamentals of nursing.
Once you receive the proper training, the next step is to take on the CNA license exams. The license exams for this state are made up of two parts, a written and a skills demonstration exam. The written exams are sometimes replaced with an oral examination. To get your name entered in the state's Nurse Aide Registry, the applicant must pass all the tests. Every applicant is allowed to retake the exams twice within one year.
This city can be found in Cobb County. The city was named after General Alfred Austell, who was the founder of the Atlanta National Bank. Austell is situated about 3 miles west of Mableton and about 5 miles northwest of Powder springs. According to the census of 2010, their total population was around 6,581. It has a total area of 5.7 sq miles, where all of it is land. Its population density is estimated to be 1,200/sq mile.
Health care centers and providers that you can find in the area include Georgia Health Clinic, Children's Medical Center PA, Austell Health Center, Foot & Leg Health Care Specialist Facf, Piedmont Physicians, Cobb Medical Group, STD Test Express, Cobb Physicians Center LP, Duffield Mark S Do, and many more. photo attribution: codnewsroom