Enrollment is currently offered for nurse aide classes in Wilkesboro, North Carolina in the facilities listed below. These programs meet state license requirements and will allow those who qualify to take the examination for certification upon completion.  Please call the number that is provided on this page for more details about signing up for the program, class tuition costs, classroom schedules, or certification requirements.
Wilkes Community College/Wilkesboro Campus
PO Box 120 1328 S. Collegiate Drive,
Wilkesboro, NC 28697
(336) 838-6204
http://www.wilkescc.edu/
Part of the process of becoming a nursing aide is getting the proper education and training. Although there are several ways to receive proper training and establish eligibility to take on the competency exam, it is very advisable that you complete a N. C. -approved training course. The main advantage of completing a North Carolina nursing aide training course is that its graduates will be allowed to work for a  maximum of 4 months, provided that the program and the nursing facility had established an agreement.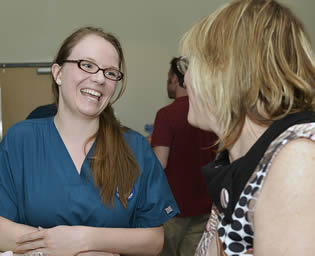 Approved programs offer a minimum of 75 hours of training. These hours are divided into lectures, laboratory work, and clinical practice. Before the students are sent to the clinical area, they must cover the basic concepts such as infection control, mental health, safety and emergency, personal care, interpersonal communication skills, and patients' rights and independence. During the whole time, the students will be under the care of a qualified nursing aide instructor. It takes an average of 6-8 weeks to complete a program, depending on which program you enroll in.
Once you complete your training and if you feel that you are ready to take on the competency exam, you may apply online (https://i7lp.integral7.com). Since the applications are now done online, you may pay for the exam fees using your credit card or pre-paid credit card. Those who are taking both the written/oral exam and the skills evaluation must pay $101.
If you pass all the tests, your name will be added to the Nurse Aide I Registry. You can expect your name to be added to the registry within 2 to 4 working days after passing the exam. You can verify your name by going online at https://www.ncnar.org/verify_listings1.jsp. You can also verify by calling the 24-hour Voice Response at (919) 715-0562.
The nursing aide makes an average of $22,000 in a year. The salary greatly depends on your experience and/or training. If you wish to increase your salary and your knowledge and skills, you can try to get an advance certification. For example, those who wish to take care of geriatric clients have the option to be a geriatric aide.
The appropriate training programs are offered by many local community colleges. You can also visit this link (http://www.ncdhhs.gov/dhsr/hcpr/pdf/gatprograms.pdf) to see the complete list of the approved programs in North Carolina. Once you complete the program, your name will be listed on the Geriatric Aide Registry.
This town is a part, and the county seat, of Wilkes County. It si considered to be the 2nd largest municipality in the entire county. According to the census of 2000, their total population was at 3,159 people. It has a total area of 5.5 sq miles, where all of it is land. Its population density is 572.0/sq mile. This town was founded back in 1800 and was made into the county seat.
Health care centers and providers that you can find in the city include Aeroflow Healthcare, RHA Health Services Inc.- Lakewood, Community Alternative Nc, RHA Health Services Inc – Lewis Fork II, Urgent Care of West Park, and many more. photo attribution: westconn