The facilities teaching nurse aide classes in Westminster, California are shown to you on this page. If you have any questions about their training opportunities, requirements to take the exam, program schedules, or tuition costs, just call the number that is provided.
Extended Care Hospital of Westminister
206 Hospital Circle,
Westminster, CA 92683
(714) 891-2769
If you are planning on entering the health care industry, then you should try to consider becoming a nursing assistant. This type of job is one of the best ways to become part of the medical team. As a CNA, you get to handle patients closely with the use of the basic nursing skills.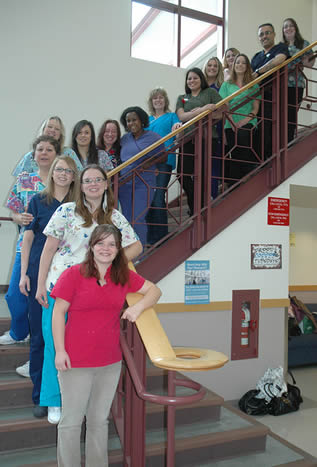 Receiving proper training is an important step in becoming a certified nursing aide. Before you handle patients, you must first learn the proper ways of how to take care of them. In accordance with the Nursing Home Reform Act, all aspiring nursing aides must receive proper training before taking the certification exam.
CNA training in California consists of a minimum of 50 hours of classroom training and 100 hours of supervised clinical practice. Students are taught basic nursing procedures as well as important concepts like infection control, medical terminologies, human anatomy, emergency and safety care, communication skills, roles and responsibilities, and many more. You will apply those things in a health care setting, preferably a hospital or a nursing home, while under the supervision of a trained health care team member.
Upon completing an approved nursing assistant program, you will become qualified to apply for the certification exam. Taking this is exam is a necessary step because employers will only hire nursing aides who are certified by the state's ATCS. When applying, you will need to send the following forms (instructions are on the forms):
•    Initial Application Form (http://www.asisvcs.com/publications/pdf/070503.pdf)
•    CNA Certification Exam Application Form (http://www.asisvcs.com/publications/pdf/070508.pdf)
When taking the certification exam, you will need all that you have learned in the training program. This exam consists of a multiple-choice knowledge test and a clinical skills evaluation, which are both taken on the same day. It was designed to test aspiring nursing aides in their competence as a nursing aide. Those who are able to pass both tests will get a  certificate from the ATCS.
The certificate is made from a special stock paper that contains a number of security features that guarantees its authenticity. You can use the certificate and show it to your potential employers that you are a competent CNA. However, despite having a genuine certificate, employers will still verify your certification by going to http://www.apps.cdph.ca.gov/cvl/SearchPage.aspx. You can also use the link provided to check your own status as a certified nursing aide.
Another way of getting certified by the ATCS is by applying for reciprocity. This process is only available to individuals who are already certified as a nursing aide in another state. Applicants must have a clean record and an active certification in order to apply for reciprocity. They will be required to provide proof of their training and education by submitting a copy of their diplomas or transcript of records along with the Initial Application form.
Westminster is a city that is a part of Orange County. It was founded by Rev. Lemuel Webber back in 1870. The city's total area is approximately 10.049 sq miles. According to the latest census done, they now have a total population of 89,701. Their population density is 8,926.3/sq mile.
The Kindred Hospital Westminster is considered as the 4th largest employer in the city. Other notable health care clinics in the area include American Society for Mohs Surgery, Total Health Care Inc., Orng County Health Care Agency; Bhvrl Health Services, Qcg, Pathway Medical Group, and many more like them. photo attribution: ufv