The nurse aide classes in Morganton, North Carolina that are listed on this page are all the registry approved training that you can enroll in. For more information about program certification, course  schedules, or the cost of tuition, just call the number provided below.
Broughton Hospital
1000 South Sterling Street,
Morganton, NC 28655-3999
(828) 433-2111
http://www.ncdhhs.gov/dsohf/broughton/
Western Piedmont Community College
1001 Burkemont Ave.,
Morganton, NC, 28655
(828) 448-3532
http://www.wpcc.edu/
If you want to work in the medical field in North Carolina, you should try to think about becoming a nursing assistant. Nursing assistants provide nursing services that are delegated by registered nurses. This line of work is best for those who love helping others. You can get other certifications once you become a nursing assistant I like become a medication aide or a nursing assistant II.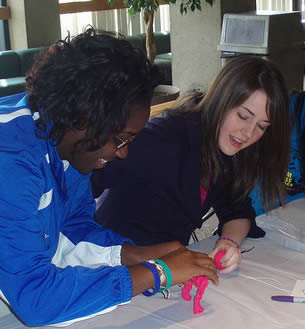 To become a nursing assistant II, you will need to undergo additional training and take the nursing assistant II license exams. There is a difference with the types of tasks that an NA I and an NA II can do. Aside from the basic care that NA I's given, NA II's tasks also involve tasks in oxygen therapy, suctioning, break-up and removal of fecal impaction, sterile wound dressing, wound irrigation, urinary catheter, and trach care.
To become a medication aide, you will need to enter the state's Medication Aide Registry. One of the requirements to become a medication aide is that you must have a current or active CNA license. As for the training, you will be required to enroll in a 24-hour training that is approved by the North Caroline Board of Nursing, and pass the state medication aide exams in order to gain entry into the medication aide registry.
Like the nursing assistants, medication aides from other states are not allowed to immediately work in a nursing home without their name on their registry. The state does not offer reciprocity, endorsement or transfer from another state. If they want to enter the N.C. MAR, they must undergo the proper training take the license exams afterwards.
Medication aide and nursing assistant II licenses also expire after 24 months after its date of issue. To become eligible for renewal, you must have worked for at least 8 hours with pay within that time. Since these two are advance certifications, you will need to get your nursing assistant I license renewed or keep it active. If your nursing assistant I license expires, so will your advance certifications.
This city is situated in Burke County. It is also the county seat of Burke County. Morganton is a part of the Hickory-Lenoir-Morganton, NC Metropolitan Statistical Area. It was founded back in 1777 and was incorporated in 1784. According to the 2010 census, this city now has a total population of more than 16,918 people. It has a total area of approximately 18.23 sq miles, where all of it is land. Its population density is 953.0/sq mile.
Broughton hospital is also considered as one of the major employers in the city. Aside from this hospital, other health care centers that you can find in the area include Cancer Center At Blue Ridge Healthcare, The Locums Co, Blue Ridge Healthcare – Learning CenterBlue Ridge Healthcare – Learning Center, Foothills Area Mental Health Developmental, Catawba Valley Behavioral Healthcare, Hartland Group Home, and Fresenius Medical Care. photo attribution: create-learning