The nurse aide classes being administered in Manitowoc, Wisconsin that are listed below offer the most recent exam preparation courses that are open for enrollment. For more information about enrolling in their vocational center medical instruction, call the number provided on this page.
UW MANITOWOC
705 VIEBAHN STREET
MANITOWOC, WI 54220-
(920) 683-4702
www.manitowoc.uwc.edu/ce/
The process of becoming a nursing aide starts with you enrolling in a state-approved CNA training program. The passing of the Nursing Home Reform Act now requires all nursing aide candidates to receive proper training before working as a long-term nursing aide. The Act's goal is to provide improved quality care to patients in nursing homes and other healthcare settings; and requiring proper training is one way to help ensure this goal.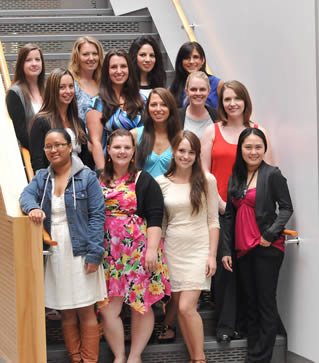 CNA programs in Wisconsin consist of 120 hours of training. Thirty-two of those hours are allocated to practical training in a licensed nursing facility. Training curriculum must have both theory and practical training portions to qualify for approval by the state's Department of Health Services. Individuals who completed online courses are not deemed eligible by the state, since online course do not have practical training. Before students are allowed to take care of the patients, they must first learn the following topics:
–    Respecting the patients' rights.
–    Promoting the patients' independence.
–    Infection control.
–    Proper communication and interpersonal skills.
–    Basic nursing procedures.
–    Medical terminologies.
–    Human anatomy.
Once you complete your training, you will be allowed to apply for the NNAAP Exam. Taking this exam is the final step in becoming a nursing aide. It consists of a written (oral) exam and a clinical skills test. Candidates must pass both tests within 3 attempts, or within one year after getting certified, whichever comes first, to gain entry into the Nurse Aide Registry and receive a license.
Names on the Registry, as well as CNA certifications, are only valid for two years. In order to keep your name on the Registry, you must renew your certification before it expires. To qualify for renewal you'll have to work as a paid nursing aide for at least 8 hours while under the supervision of a registered nurse to qualify for renewal. No CNA is allowed to continue working with an expired certification. You can find out more about how to update your eligibility by following this link: http://www.dhs.wisconsin.gov/caregiver/natd/NAcompRegAQsPt2.HTM#updatemplymnt.
This city is the county seat of Manitowoc County. You can find this city situated on Lake Michigan at the opening of the Manitowoc River. According to the census of 2000, their total population was around 34,053 people. It has a total area of 17.2 sq miles and has a population density of 1,982/sq mile. Major roads serving the city include U.S. 151, Interstate 43, WIS 42, and U.S. 10.
The Holy Family Memorial Medical Center and the Aurora Health Care are the major health care centers that are serving the city. Other health care centers that you can find in the area include Felician Village, Family Dental Center SC, DiRaimondo Carl A MD, Orthopedic Associates Of Manitowoc, Trader Joseph E MD, Lakeshore Pharmacy, Smile Clinic SC, Manitowoc Health & Rehabilitation Center, and many more. photo attribution: ufv