The certified nurse aide classes in Newland, North Carolina are all listed for you in detail below. Included in the list are all the schools that are North Carolina state approved and currently open for enrollment. For more information about signing up for training, cost of tuition, or curriculum requirements, just call the number provided.
Mayland Community College/Avery Campus
785 Cranberry Street
Newland, NC
(828) 733-5883
http://www.mayland.edu/
The best way to enter the medical field nowadays is to become a nursing aide. The training is fast and cheap, and not only will it grant you access to the world of healthcare, it can also open advance job opportunities once you become a certified nursing aide I.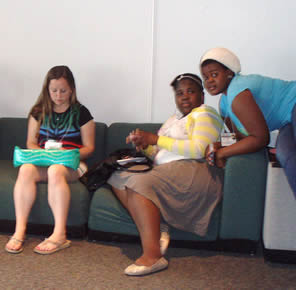 There are two general ways to become a nursing aide I in North Carolina. One is to challenge and pass the license exam, while the other is to directly gain entry into the Registry. The latter option is for those RNs and LPNs who want to work in a nursing home. All they have to do is to simply show proof of their training and experience and the appropriate application form (http://www.ncdhhs.gov/dhsr/hcpr/pdf/RNRegistry2.pdf) to the address below:
N.C. Department of Health and Human Services
Division of Health Service Regulations
2709 Mail Service Center
Raleigh, N.C. 27699-2079
Phone: (919) 855-3969
Fax: (919) 733-9764
If you are required to take the license exams, then you will need to establish eligibility by being able to complete a 75-hour training course. The course has to be approved by the state's Department of Health and Human Services for the training to be considered valid. After completing the training and while waiting to take the exams, then you are allowed to work for up to 4 months in a nursing home even without a license.
If you are able to pass all the test of the license exams, your name will be added to the Nurse Aide I Registry, where it will remain there for up to 2 years. In order to maintain your status on the Registry, you must work for at least 8 hours at an approved healthcare facility. The following conditions must also be met for the work to be valid:
•    You were paid for your work.
•    You were performing nurse aid task
•    A registered nurse supervised you and was responsible for delegating the tasks to you.
This town is the county seat and a part of Avery County. This area was once known as Old Fields or Old Fields Toe before 1911. It was named after Lieutenant Governor William C. Newland. According to the latest census there, their total population was at 704. It has an area of approximately 0.7 square miles, where all of it is land.
Examples of health care centers and providers that you can find in the area include Temco DBA New River Behavioral Health Care, New River Area Mental Health Developmental Disabil Avery County – Pact Program, Arhs Cap/ Avery Home Care, River Area Mental Health Evelopmental Disabilities, Appalachian Regional Healthcare System, and Avery Healthcare Inc. photo attribution: create-learning