By joining a certified nurse aide program in New Madrid, Missouri you will learn the basic skills required to pass the certification exams. The course will offer skills practice and knowledge in general health care procedures. Contact the center to learn more about how their course can help you.
New Madrid Technical Skills Center
310 Us Highway 61
New Madrid, MO 63869
573 688-2161
Completing a training course for nursing assistants will qualify you to take the state license examination. The two part exam must be passed in its entirety in order for you to be certified and listed as an active nurse aide in the state registry. The test is made up of written multiple choice questions, and a manual task demonstration.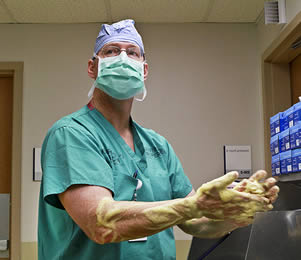 There are three types of statuses on the CNA Registry. These are active, inactive, and expired. An active status on the CNA Registry means that the nursing aide has meet the requirements for training and testing in both the Federal and State Regulations. This individual may work as a nursing aide in a long-term care health facility if he has no records that prevent him from working as a nursing aide such as abuse, neglect, or misappropriation of the resident's money or property. The employer will have to verify the nurse aide status at
https://webapp01.dhss.mo.gov/cnaregistry/CNASearch.aspx before he hires the applicant.
An individual will only have an inactive status on the Registry if he has failed to work for at least 1 day within the last 24 months. Once he has an inactive status, he will not be eligible to work in a long-term healthcare centers. Any advance certifications that he has will also become inactive. He can only reactivate his status by challenging the evaluation exams.
If the individual has failed to work for more at least 5 years, his status will be changed from inactive into expired. Expired certifications will no longer be able to get reactivated. If the individual wishes to work in a nursing facility, he will need to undergo retraining and retake the license exams.
This is the county seat of New Madrid County. It was founded back in 1788 by American frontiersmen. It is situated about 42 miles west of Cairo, Illinois. As of the 2000 census, their total population has reached up to 3,334. The total area of New Madrid is approximately 4.5 sq miles, where all of it is land. The population density of the city is 738.3/sq mile. This city is famous for having over 1,000 earthquakes back in 1811 and 1812.
Examples of health care facilities that you can find in the area include Semo Health Network/Boothel Dental Clinic, Semo Health Network, Oza Saleem MD, Bootheel Dental Clinic, Pattaropong T, Golden LivingCenter, and many more. photo attribution: armymedicine