The CNA programs in New Berlin, Wisconsin that are open for enrollment are listed below. The classes shown on this page are approved by the state of Wisconsin. For more information about the certification training, please call the number below to talk with a representative of the school.
LINDEN GROVE
13755 W FIELDPOINTE DR
NEW BERLIN, WI 53151-
(262) 797-4600
To work as a nursing assistant in a federal nursing facility, you need to get certified. The first thing that you need to do is to look for a state-certified training facility. Since nursing assistance is one of the most popular courses today, you'll be able to find a suitable program easily. We've compiled all the approved programs found in New Berlin. If you found one that isn't on our list, make sure that it is approved by the state before you enroll in it.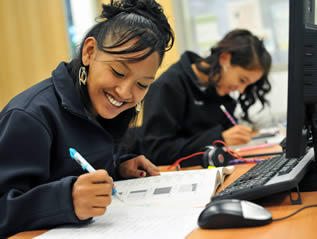 Approved programs are required by the state to offer at least 120 hours of training, of which 32 are allocated for clinical practice. Approved curriculum will always consist of both theory and practical training. During the duration of the training, students will be placed under the supervision of a qualified CNA instructor. Before students are allowed to handle the patients, they must first learn the following concepts:
•     Medical and Surgical Asepsis
•    Personal Care
•    Patient Rights
•    Communication and Interpersonal Skills
•    Basic Nursing Procedures
•    Patient Independence
•    Safety Precautions and Emergency Care
Depending on the program you choose, it can take you 2 to 6 months to complete your training.  Completing an approved program is a requirement to qualify for the certification exam. According to the law, you can only work in a Medicaid/Medicare health care institution if you have an active certification, and if you are listed on the state's Nurse Aide Registry.
Another way of qualifying for the certification exam is by successfully completing one semester of nursing school. You need to take up the Fundamentals of Nursing and acquire a minimum of 32 hours of clinical training to qualify. This exemption of training is also applicable to registered nurses, licensed practical nurses, graduate nurses, and foreign-trained nurses. You can follow this link for more information: http://www.dhs.wisconsin.gov/caregiver/NATD/NrsAidTrgPrgInf.HTM.
The certification exam consists of a multiple-choice knowledge test and a skills evaluation exam. Both tests are conducted on the same day by the American Red Cross (ARC) with the help of Pearson VUE. If a candidate passes both exams within one year after completing his training, then his name will be entered into the Nurse Aide Registry and will be given a CNA card.
Names on the Registry, as well as certifications, are only valid for 2 years. To maintain one's eligibility to work in a certified healthcare facility, you must renew your certification before it expires. When renewing your certification, you will be required to provide proof that you were able to work as a paid nursing aide for at least 8 hours. No CNA is allowed to continue working with an expired/lapsed certification. An expired/lapsed certification can only be reactivated by taking and passing the certification exam once more.
This city can be found in Waukesha County. It is the second largest community in the county just right after Waukesha. It is situated just between Madison and Milwaukee. They have a total population of 39,584 at the 2010 census. New Berliln has a total area of about 36.9 sq miles and a population density of 1,086.2/sq mile.
Health care centers that you can find in the area include Lifeline Systems, Evangelical Child & Family Agency, Applewood Senior Living, Sunnyslope Dental Care, Gentle Family Dentistry, ResCare HomeCare, Gruchalski Jeff DR Office, Autumn Living Inc., True Health Counseling LLC, Aurora Advanced Healthcare, and many more. photo attribution: ufv