The recent nursing assistant training in Murray, Utah that is approved by the state registry and is currently available is all shown to you on this page. For any questions about their certified nursing assistant classes, program requirements, class curriculum, or tuition fees, please call the number below.
AAA CNA TRAINING CENTERS
5248 So. Pinemont Dr.  Suite c250
Murray, UT  84123
STEVENS-HENAGER COLLEGE
383 West Vine Street,
Murray, UT   84123
801-281-7600
MURRAY HIGH SCHOOL
5440 S State St
Murraym, UT  84107
801-264-7460
(Offered to high school students only)
If you are looking for a way to start a career in the field of health, then you might want to consider becoming a certified nursing assistant. If you get a CNA certification you will be allowed to work as a nursing assistant in different healthcare settings like hospitals, nursing homes, rehabilitation centers, assisted living centers, long-term care facilities, and even in the patient's own home.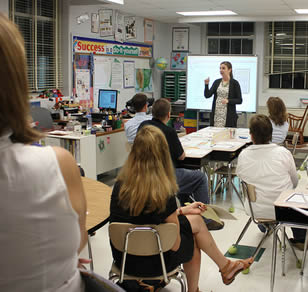 Before you can perform any nursing assistant duties, you must first enroll yourself in a state-approved program. It is important that you equip yourself with the knowledge and skills necessary to take care of the patients. You can find great programs offered by hospitals, community colleges, nursing homes, private training institutions, and technical and vocational schools. When searching for a program, just make sure that it is approved by the state of Utah.
CNA training in Utah consist of 80 hours of continuous training. These hours consist of 50 hours of lectures and 30 hours of supervised clinical practice. Students are taught about basic nursing procedures and important nursing topics like infection control, safety and emergency care, vital signs taking, nutrition, elimination process, proper communication, and many more.
Completing an approved training program will make you qualified to apply for the certification exam. The certification exam in this state consists only of a written exam and a clinical skills evaluation. Unlike some states, they do not offer the written exam with an oral version since they require all nurse aides to be able to speak and read English properly.
If you pass all the tests your name will be added to the Nurse Aide Registry. According to the law, only the people who are on the NAR are allowed to work as CNAs. To keep your eligibility to work as a nursing assistant, you must renew your certification every 2 years. You will need to work for at least 200 hours to be eligible for renewal.
This city is a part of Salt Lake County. You can find this city on the Wasatch Front in Salt Lake Valley. It got its name from the territorial governor Eli Murray. It is considered as the 14th largest city in the entire state. Neighboring cities include Salt Lake City, West Valley City, Sandy and West Jordan. According to the 2010 census, their total population was around 46,746 people. It has a total area of 9.6 sq miles and has a population density of 3,703/sq mile.
The Intermountain Medical Center is the largest employer in the entire city. Other health care centers that you can find in the area include Intermountain Senior Clinic, Workmed Occupational Health Clinic, FirstMed, Surgi-Care Center Of Utah, The Eye Institute Of Utah, and many more. photo attribution: wwworks