The certified nursing assistant schools in Muncy, Pennsylvania are being shown here. To find out more about their programs, you can call them or go to their office during working hours.
Muncy Valley Hospital Nursing Assistant Program
215 East Water St.,
Muncy, PA 17756
(570) 327-8137
You can't be a nursing assistant unless you know how to function as one. To solve this problem all you have to do is to successfully complete a CNA training class. The class you attend must be approved by the Pennsylvania Department of Education to ensure that your training meets the federal and state standards. Certified training classes are required to last at least 80 hours, which must be divided into theories and practical training. Both lectures and hands-on training are done concurrently.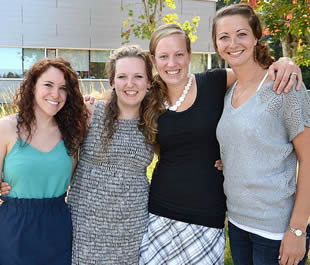 Even as a student, you will already get the chance to take care of actual patients in a real clinical setting. Don't be intimidated by this fact because you'll be under the supervision of a CNA Instructor during the whole time. Students are not allowed to perform or demonstrate any nursing skills without the presence of their instructor. Students are also not allowed to perform a procedure or skill that has not yet been taught in the classroom. The majority of the training classes in the state can be completed within 12 to 16 weeks.
Classes will teach you the fundamental skills necessary to pass the state exams and that you will use while employed. Some of the skills you will learn during your instruction are: catheter care, safety protocols, nursing theory, infection control, checking vital signs, personal hygiene, nutrition, housekeeping, resident rights, restorative care, range of motion exercises, psychosocial, toileting, dressing, bathing, sub acute, and death and dying.
What's next after training? Well, once you complete all of your training, the next step is to apply for the CNA exams. The exams will test everything that you know about being a nursing assistant. It will challenge your knowledge of the important nursing concepts and will require you to demonstrate your competency in performing basic nursing procedures that nursing assistants are allowed to do. You and every candidate will have 24 months after completing training to take and pass both tests.
The tests will consist of a multiple choice written exam and a manual skills demonstration exams. You will get three attempts to pass both tests. Those who can not pass in three attempts are requried to retake a training program. To find an exam testing location you can call the American Red Cross at 1-800-795-2350.
If you manage to pass both exams, then your name will be placed on the Nurse Aide Registry. The Nurse Aide Registry contains all the names of individuals who have proven themselves competent to become full-time nursing assistants. Only the individuals who are on the Registry get to be certified. According to the law, only certified nursing assistants are allowed to work as full-time CNAs in a federal nursing facility.
The State of Pennsylvania is open when it comes to nursing assistants who come from other states. If they currently have an active or valid certification and were able to maintain a clean record (not on the Abuse Registry) they may be able to work in Pennsylvania as CNAs without going through the certification process all over again. Out-of-state nurse aides need to call the Department of Health at (800) 852-0518 to see if they are eligible for reciprocity.
Muncy is situated in Lycoming County. This borough can be found on the West branch of the Susquehanna River; it is just south of the junction of the river and Muncy Creek. As of the 2000 census, their total population had reached up to a total of 2,663 people. The total area of Mucny is estimated to be about 0.8 sq miles, where all of it is land.
Examples of health care providers and clinics located in Muncy include Williamsport Regional Medical Center Behavioral Health Center, Prison Health Services, Susquehanna Health Laboratory Services – Muncy Valley Hospital, Muncy Valley Hospital – A Member of Susquehanna Health System, Susquehanna Health Behavioral Health Centerm and Interim HealthCare. photo attribution: ufv