The available nurse aide programs in Mount Morris, New York that are shown on this page offer the license preparation instruction that has been authorized by the state registry. For more information about signing up for certification training in this town, please call the number below.
Finger Lakes Community College at the Livingston County Center for Nursing and Rehabilitation
11 Murray Hill Drive, Mount Morris, NY 14510
(585) 394-3500
http://www.co.livingston.state.ny.us/
According to the federal government all nursing aides that work in a nursing facility must be certified. The certification process in the state of New York includes being able to pass the clinical skills test and the oral/written exam portions of the competency evaluation exams that is given by Prometric. Before one is able to take the exams, one has to apply for it first. Only those who were able to gain the necessary training and education are allowed to apply for the exams.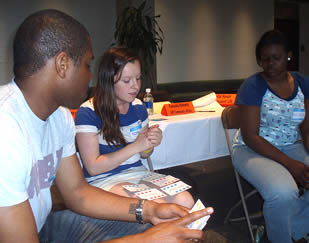 One way of becoming eligible to complete a nursing aide training course. The course needs to be approved by the New York State Department of Health. These programs offer 75 hours of training, which consists of lectures on the concepts of the Fundamentals of Nursing and on-the-job skills training, which means handling and taking care of actual patients.
Foreign registered nurses are also allowed to apply for the exams but before they do, they need to get eligibility approval from the NYSDOH. They will need to fill out the application forms, which you can download from https://www.prometric.com/en-us/clients/Nurseaide/Documents/New%20York/NYNARegistryApp20111006.pdf and send them along with the necessary documents such as:
•    A copy of SS card
•    A copy of his nursing license
•    A copy of his nursing school diploma
•    A copy of his transcript of records
The necessary documents must be sent, along with the examination fees, to:
New York State Department of Health
NATP/NAR Program
Mailstop: CA/LTC
Empire State Plaza
Albany, New York 12237
Once approved, the next step is to schedule a date for the exams. The exams should only be taken at approved testing centers. These locations may either be done in a Regional exam site or an approved testing facility. For any additional information, one may call the Examination and Scheduling Services at (800) 805-9128.
This is a town that is a part of Livingston County. This town also has a village within it that has the same name. The town was named after Robert Morris, the financier of the American Revolution. It was first settled aback in 1784 and was known as "Allens Hill". According to the census of 2010, their total population was around 4,465 people.
Examples of health are centers and providers that you can find serving this town include Mt Morris Family Health Care Center (585) 658-3075 and the Livingston County Reproductive Health Center (585) 243-7540. photo attribution: create-learning