The nursing assistant courses that are open for enrollment in Mount Juliet, Tennessee are all available here. For more information about their programs tuition costs, curriculum, or requirements, you can call them with the contact number provided.
Mt. Juliet Health Care Center
2650 North Mt Juliet Rd.,
Mount Juliet, TN 37122
(615) 758-4100
Nurse aides are one of the most demanded professionals in the field of health today. As the number of people who are getting more health conscious increases, so do the demand for CNAs and other health care providers. Experts believe that this demand will continue to increase up to the end of the decade. To work as a nurse aide in Tennessee, you must be properly trained and be listed on the Nurse Aide Registry. Only individuals who are listed on the NAR are allowed to work in a nursing facility.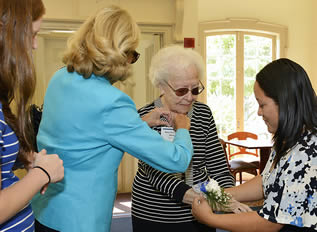 There are two ways for you to gain entry into the state's NAR. The first option is to apply for reciprocity. This process however, is only available to individuals who are already CNAs who are registered in another state's NAR. To apply, they must have a valid certification and a clean record. They will be required to undergo and pass the national background check. Those listed in the Abuse Registry will not be allowed to work will not be allowed to work certified healthcare facilities. To transfer your certification to Tennessee you must currently be of active status and complete the Out-Of-State Nurse Aide Registration Application.
The second option to become a CNA by being trained and certified through the state registry before you can work in the state of Tennessee as a nursing assistant. The classes will teach you the basic health care related proficiencies you will use day to day on the job. Instruction is administered by a registered nurse with two year minimum of experience and lasts at least seventy-five hours in length.
Some of the common skills you will be required to know are communication, CPR, Heimlich, emergency protocols, infection measures, safety practices,  interpersonal, and patients rights. There are currently 25 different skills you will learn during your training class. Of the 25 you will be tested on 5 skills when you take your competency exam. Successful completion of your CNA school instruction, the competency exam and passing state and federal background checks enables you to be placed on the registry for 24 months. You can call Tennessee Nurse Aide Program Office and learn more about requirements and being placed on the registry by calling (615) 532-5171 from the hours of 8:00 a.m. – 4:30 p.m. Central, Monday through Friday.
If you have never been certified as a nurse aide before, then you must pass the certification exam in order to get into the NAR. The state's Department of Health has contracted D&S Diversified Technology to help conduct, score, and release the results. This exam is divided into two parts – the written/oral knowledge test and the skills evaluation. Both of the exams are taken on the same day. If you fail in one part of the exam you will have another 2 attempts to pass. You will have to reapply for the exams before you can retake the portion that you failed. If you still fail after your third attempt, you will no longer be allowed to reapply unless you complete another training program.
Once you are on the Registry, it will contain vital information about you. Most information is kept private, but some are released to the public for the purpose of verification. Employers will verify the applicant's certification before hiring. They will only hire you if your name is found on the NAR. If you changed your name or address, you must inform the Registry. For name changes, you will be required to provide legal documents that will support this change such as a marriage certificate or divorce certificate.
Your certification will remain valid for 24 months. To keep it on the Registry, you must renew your certification before it expires. To do so, you will have to provide proof that you have worked at least one 8-hour shift in a certified nursing facility while under the supervision of a registered nurse. This proof may come in the form of a pay stub, a notarized letter from the employer, or a printout of the payroll. If your certification expires, you will no longer be allowed to work as a CNA. To get back on the Registry after your certification has expired, you will have to start all over again.
This city is a suburb of Nashville and is located in Wilson County. It is only a few miles east from downtown Nashville. It is also located just between U.S. Route 70 and Interstate 40. According to the census of 2008, their total population had reached up to a total of 25,234 people. It has a total area of approximately 16.6 sq miles and a population density of 761/sq mile.
Examples of health care clinics/centers that can be found in Mount Juliet include Tennessee Sports Medicine Surgery Center, Summit Walk-In Clinic, The Little Clinic, Cumberland Mental Health Services Inc., Mt Juliet Spine & Pain Management, Ugent Care at Providence, and Charis Health Center Inc. photo attribution: westconn