CNA Classes in Milpitas, California are found on this page. Contact the number for the nurses aide training program for class schedules, tuition cost and enrollment details. If you know other certified nursing assistant classes in the city, send them to us and we will add them to the list.
Solano College Of Nursing
238 South Hillview Drive
Milpitas, CA 95035
(408) 719-8100
[Multiple Classes Available]
To qualify for a CNA certification in California, one must comply with the state's requirements. This involves proper training, passing the national background checks, as well as passing the NNAAP exam.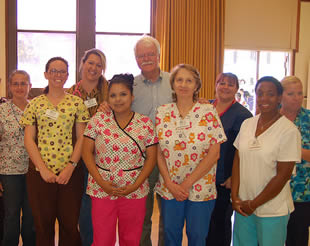 The best way to get the training that you need is to enroll in a nurse aie training program. Approved programs offer no less than 150 hours of training. These hours are divided into lecture and clinical practice which are both taught at the same time. Most of the programs in California can be completed within 2 to 6 months.
Upon enrolling in a state-approved program, you will be required to get fingerprinted through Live Scan. This is done for the mandatory background checks. A copy of the Request for Live Scan must be sent to the ATCS prior to the start of the clinical rotation. No student is allowed to handle any patient without submitting a copy of the request form.
The NNAAP exam is conducted by Pearson VUE. It initially consists of a written test and a clinical skills test. Both tests cost $90; candidates who have trouble reading English can request for an oral version for an additional payment of $15. Payments must only be in the form of money orders, cashier's checks, or company checks made payable to the Regional Testing Center in your area.
Registered nurses and LPNs who wish to work as nursing aides are required to take the NNAAP exam. They must submit the Initial Application Form (http://www.asisvcs.com/publications/pdf/070503.pdf) to the ATCS along with a copy of their transcript of records, diplomas, and other proof of education and training.
If you pass all the tests of the NNAAP exam, you will get a CNA certificate from the ATCS. The certificate will arrive at your area within 10 days after passing. Your certification will only be valid for 24 months and must be renewed before it expires. You will lose your eligibility to work as a nursing aide if you let your certification expire.
Milpitas has a total population of 66,790. It is part of Santa Clara County. It is also the suburb of the major city of San Jose. Cities like Fremont and San Jose board the north and south portion of this city. Milpitas is still part of Silicon Valley. It has a total area of 13.641 sq miles and a population density of 4,896.3/sq miles.
Health centers that you can find in the city include Chanwell Medical Group (408) 586-8866, STD Test Express (408) 658-0441, Pediatric Play Therapy (408) 941-2159, and Right at Home (408) 946-8055. photo attribution: repgeorgemiller