The nursing assistant training centers that are available for enrollment in Middlebury, Vermont are available on this page. Training programs in this state are being offered by colleges and community training centers. Those who pass the instruction and the state license exams are placed in the registry and eligible to work.
Addison County Home Health
254 Ethan Allen Highway, P.O.Box 754,
Middlebury, VT 05753
(802) 388-7259
Patricia A. Hannaford Career Center Nurse Aide Course
51 Charles Ave.,
Middlebury, VT 05753
(802) 382-1012
Helen Porter Healthcare and Rehabilitation Center
30 Porter Drive,
Middlebury, VT 05753
(802) 388-4001
Certified nursing assistants or nurse aides in Vermont are generally known as Licensed Nurse Assistants or LNAs. As you might already know, this state is governed by its own laws regarding the certification process of its nurse assistants. However, like any other state, they still required their LNAs to undergo proper training and pass the certification exam before working in  state-certified healthcare facility.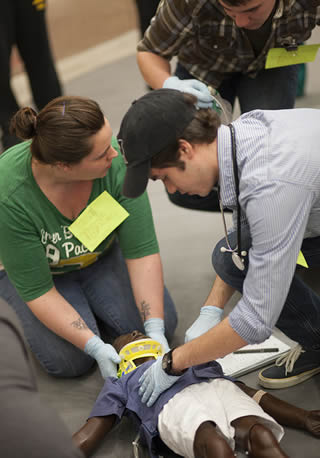 CNA training in this state consists of 75 hours of training in the classroom and an additional 30 hours of clinical practice. Students are taught about different concepts such as infection control, personal care, emergency care, resident's rights and independence, communication skills, and basic nursing skills.
To enroll in a program you must be at least 16 years old; some programs only accept students who are 18 years old. There are no academic prerequisites to enroll in a state-approved program. However, the ability to read and write is a must for all aspiring nurse assistants.
By completing a state-approved CNA program you will become eligible to apply for the NNAAP exam for 2 years. The NNAAP exam in this state is conducted, scored, and released by the Pearson VUE Testing Company. The exam is a two part exam that consists of a written/oral test and a skills evaluation exam. Both tests must be passed to become an LNA.  If you visit www.pearsonvue.com you can try out their NNAAP Nurse Aide Practice Written Exam Packet and see what the knowledge test is all about.
Once you are a licensed nurse assistant you will be allowed to work in a state-approved healthcare facility for two years. During that time you must work, for pay, for at least 400 hours while under the supervision of a registered nurse to qualify for recertification. If you fail to renew your certification on time it will be considered expired. No LNA is allowed to continue working with an expired certification/license. If you wish to reactivate your certification, then you will have to take a competency evaluation exam.
Middlebury is the county seat of Addison County. The name of this town was taken from its geographical location of being in the middle of Salisbury and New Haven. This town is crossed by highways like U.S. Route 7 and State Routes 23, 30 and 116. As of the 2010 census, their total population was about 8,496 residents with a population density of 217.8/sq mile. The total area of this city is estimated to be about 39.2 sq miles, where almost all of it is land.
Health care centers and providers that are found in the area include Porter Rehab & Orthopedic Services, Open Door Clinic, Planned Parenthood: Middlebury Health Center, Integrated Medicine, Acorn Natural Medicine PLC, Vermont Spine Works & Rehabilitation, Community Health Services-Addison, Acupuncture Vermont, and many more. photo attribution: codnewsroom