Programs in Martinsville, Virginia that are approved to teach one to work as a nursing assistant are shared here. Those who join will be instructed in how to use an assortment of medical skills and learn how to care for patients in a health care setting.
Patrick Henry Community College
P. O. Box 5311
Martinsville, VA 24115
(540) 638-8777
Working as a nursing aide in Virginia can be a very satisfying and rewarding career. As a healthcare provider you get to help other people with their health matters as well as have a stable career. The healthcare industry will always have jobs waiting for people since health will always be a necessity. If you want to start a career as a certified nursing assistant in Virginia, then just follow these easy steps.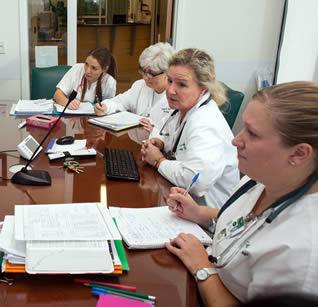 Step 1: Enroll in a CNA Training Program
Learning the proper skills is an important step when you're starting any new career. This goes double for those who work by taking care of other people's health. A state-approved program will teach aspiring candidates all they need to know about becoming a competent nursing assistant. They will also help candidates prepare for the challenges they might encounter while taking care of a patient.
Nursing assistant training programs in Virginia meet the OBRA's required 75-hour requirement. These hours are divided into both lectures and supervised clinical practice. Students are placed under the care of a registered nurse with background experiences in handling student nursing assistants.
Step 2: Applying for the NNAAP Exam
The National Nurse Aide Assessment Program Examination is the final step before becoming a full-fledged CNA. The application packet is usually handed to you by your instructor at the end of your training. You can also download and print a copy by following this link: http://www.asisvcs.com/publications/pdf/075301.pdf. The application form will already contain detailed instructions on what to do. If you want to get a better picture of the application process, then just click this link here: http://www.asisvcs.com/publications/pdf/075322.pdf.
Step 3: Take the NNAAP Exam
The first part of the NNAAP exam is the knowledge test. The knowledge test is initially given as a written exam. However, candidates who have trouble reading can request for an oral exam instead. Requests for an oral exam must be made upon applying for the exam. Candidates are given 2 hours to answer all 70 multiple-choice questions.
The second part of the exam is the skills test. In this part, candidates are tasked to perform 5 random skills in front of an evaluator. Candidates only have a maximum of 30 minutes to perform all the skills/procedures. They'll have to perform all of them satisfactorily to pass this part of the NNAAP exam.
The names of the candidates who will pass both tests will be forwarded to the Nurse Aide Registry. The Board of Nursing will then send them their certification within a few days after. Since it's your first time to get a certification, you'll need to renew it by the following year.
Maintaining your CNA Certification
To be eligible for renewal, you'll have to show proof of employment as a paid nursing assistant. Once you renew your certification, your next renewal will be 2 years after. If you fail to renew on time, you'll have an additional 90 days to renew. No health care employee is allowed to continue working with an expired certification.
This is an independent city that is situated within Henry County. This city was founded by Joseph Martin, a American Revolutionary War General and explorer.  It is a major city of the Martinsville Micropolitan Statistical Area. According to the latest census, their total population was around 13,821 people. Martinsville has a total area of 11.0 sq miles and has a population density of 1,407/sq mile.
Examples of health care facilities that are situated within the city include The Ob-Gyn Center PC, Dr Jon's Urgent Care Center, Danville Urologic Clinic, Hill Chiropractic Center, Martinsville Urgent Care LLC, The Complete Foot Care Center, Wecare Inc., Regional Health Services, Piedmon Preferred Women's Healthcare, Family Preservation Service Inc. and many more. photo attribution: codnewsroom