The latest nurse aide classes in Manteca, California are provided for you on this page. Those who wish to learn more about becoming students and receiving certification to work should contact one of the schools featured below.
Kaiser Permanente Nurse Aide Course
1777 West Yosemite Avenue
Manteca, California 95337
(209) 825-3700
Lindbergh Educational Center
311 East North Street
Manteca, CA 95336
(209) 825-3100
Manteca Care and Rehabilitation Ctr.
CNA Training Program
410 Eastwood Avenue
Manteca, CA 95336
(209) 239-1222
California is one of the best places to start a career as a nurse aide. Not only is the demand for the profession one of the highest in the country, their salaries are also very high. With such high demands you will not have any problem looking for a job once you get certified.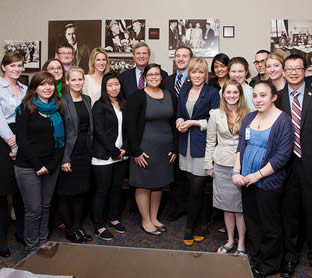 Before you can work as a nurse aide, it is important that you receive proper training and education. You must successfully complete a state-certified CNA training course. These courses are offered by numerous institutions and schools like hospitals, community colleges, technical and vocational schools, nursing homes, and government organizations.
Requirements for CNA training in California:
•    Minimum of 18 years old
•    Have a high school diploma or a GED certificate
•    Pass the criminal background checks through Live Scan
•    Be physically capable of taking care of patients
•    Speak and understand English
CNA training consists of a minimum of 50 hours of lectures and 100 hours of practical training under a nurse aide instructor.  Both the classroom and practical training are taught concurrently (at the same time). Completing a state-approved training course will qualify to apply for the NNAAP exam.
If you complete a nursing education program, military-training as a medic, or taken up the Fundamentals of nursing you may also apply for the NNAAP exam. To ensure that you qualify, please call the ATCS at (916) 327-2445.
The NNAAP exam is a two part exam that consists of a multiple-choice knowledge test and a clinical skills test. You will have 2 hours to answer all 70 items of the written/oral test and 25 minutes to perform all requested nursing procedures. You will receive a nursing assistant certificate from the ATCS if you pass both tests within 2 years of completing your training.
This certificate will prove that you have met the federal and state's training and testing requirements. It will also show that you are a competent nurse aide. Employers will verify your certification before hiring you by going calling the ATCS or going to http://www.apps.cdph.ca.gov/cvl/SearchPage.aspx. You can also visit the site if you wish to check your status as a certified nurse aide.
A CNA certificate is valid for only 2 years. You must renew your certificate before it expires. You must find work for at least 8 hours as a paid nurse aide and complete 48 hours of in-service training or continuing education. You will not be allowed to continue working as a nurse aide if your certificate expires.
According to the census of 2010, Manteca has now a total population of 67,096. This city is still part of the San Joaquin County. It has a total land area of 17.8 square miles and a population density of 3,778.6/sq miles.  You can find towns like Lathrop, Ripon, Escalon, and Tracy near this city.
The Doctors Hospital of Manteca is one of the top employers in the city with a total number of employees of almost 450 people. Other health clinics that you can go to in this city are Community Medical Centers, Community Psychiatry Associates, Dowell-Hoogendoorn Chiropractic Inc., St. Joseph's Occupational Health, Manteca Children's Mental, and DaVita Dialysis Center. photo attribution: usdagov