The certified nurse aide training authorized by the registry in the town of Lyons, New York is shown on this page. Courses featured here have met the approval of the state, and will grant you the ability to take the license exams once completed. Please call the school for further facility information.
Finger Lakes Community College Wayne County Nursing Home and Rehabilitation Center
1529 Nye Road, Lyons NY 14489
(585) 394-3500
http://www.co.wayne.ny.us/
It is very important that if you want to become a nursing assistant, you will need to learn the proper knowledge and skills to take care of the residents in a nursing home or a long-term care facility. You will need to find a training program that is approved by the New York State Department of Health. To complete the program, you must be able to meet the required 75 hours of training, which consists of lectures and on-the-job training.  Before you are allowed to enroll in a program, you will need to undergo a criminal background check, which includes a 10-point fingerprinting.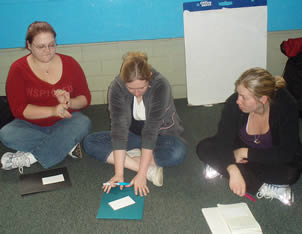 By completing a state-certified program, you will gain eligibility to take on the competency evaluation exams. These exams consists of a written/oral exam and a clinical skills tests. They are given by Prometric, which is an independent-testing company. To take the exams, you will need to apply for it by filling out the application form (https://www.prometric.com/en-us/clients/Nurseaide/Documents/New%20York/NYNARegistryApp20111006.pdf) and send them along with other documents and the payment for the testing fees. To contact the Examination and Scheduling Services, you can call them at (800) 805-90128.
You may either take the exam in your training facility, provided that they are authorized to provide in-facility testing, or take the tests are approved Regional testing sites. Candidates that are allowed to take the exams at the Regional testing sites include:
•    Those who are not employed in a nursing home.
•    Those who are employed in a nursing home that is not allowed to conduct in-facility testing.
•    Those who were able to complete the training within the past 24 months but have relocated to a different area which made it hard to return to the training facility.
•    Any candidate who completed the necessary training but was prohibited from taking an in-facility testing by the DOH of New York.
This town is a part of Wayne County. It was named after Lyons, France. You can find this town located in the south-central part of the county. It is also the seat of the county. The town began back in 1789 and was originally known as "The Forks". According to the latest census there, their total population was around 5,831 people. It has a total area of approximately 37.6 sq miles, where almost all of it is land. It has a population density of approximately 155.1/sq mile.
Examples of health care centers and providers that you can find serving the city include Private Testing Center, Smith Nathan R, Wayne County Departments – Mental Health Counseling/Center, Rochester General Medical Group Lyons Health Center, Jehan Effat MD, Hernandez Ileana MD, and many more. photo attribution: create-learning