The certified nursiing assistant classes being provided in Lyons, Georgia that are available for enrollment are listed here. If you have any questions about how you can receive your certification, please call the number below.
Toombs Health and Rehabilitation at Oxley Park
181 Oxley Drive,
Lyons, GA 30436
(912) 526-6336
Website: http://www.oxleyparkhealth.org
If you are looking for a way to enter the medical field, you should consider becoming a nursing assistant. This type of job is best suited for those who love to take care of others without the need to get largely compensated for their services. Becoming a nursing assistant does not take that long nor does it cost that much as compared to other courses.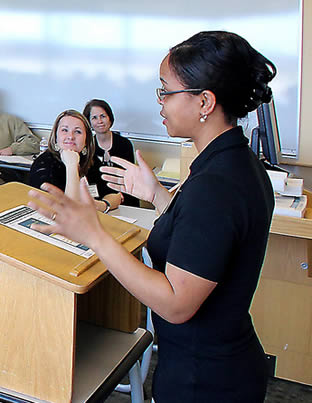 The first step is to enroll yourself in a CNA training course or a NATP. When you enroll, you should make sure that the program you choose is approved by the Georgia Medical Care Foundation. You can find these programs offered by nursing homes, home are institutions, technical colleges, and other public and private schools in the state. You must have at least 85 hours of training where at least 24 hours of it is allotted to clinical rotations. When you are in your clinical rotations, you will be placed under the supervision of a licensed LPN or RN.
After you complete your training, you will become eligible for the license exams. When applying, you must submit your application forms, which you can get at http://gacnas.org/pages/view/certification. You will also need to submit an ID photo, fingerprint cards, results for the TB test, undergo immunizations, as well as the results for the background checks. You will also need to send, along with the paperwork, the payment for the different fees.
The exams are given in two parts. Applicants must pass both parts to be certified and added to the registries directory. Once listed your name is active there for a two year period. To remain active you will need to submit a renewal form which asks for work verification. This requirement is proof of working 8 hours over the previous two years as a nurse aide for pay.  To learn more about this requirement you can call (678) 527-3010 or (800) 414-4358.
Lyons is the county seat of Toombs County. It is included in the Vidalia Micropolitan Statistical Area. According to the census of 2000, their total population had reached up to a total of 4,169 people. It has a total area of about 7.5 sq miles, where all of it is land. Its population density is estimated to be around 555.9/sq mile.
Examples of health care facilities and providers that you can find within the city include Neely Ben B MD, Payne Donald J DR, McRae Animal Clinic, Take Care Clinic at select Walgreens, and Allcare Pharmacy & Healthcare Services. photo attribution: codnewsroom