The state registry authorized nursing assistant training programs available in Lynwood, California can be seen below. For any questions about becoming a student or receiving certification, please call the school number provided below.
Lynwood U.S.D.
12124 Bullis rd.
Lynwood 90262
(310) 603-1466
St. Francis Career College
3680 e. Imperial Hwy, 5th flr
Lynwood 90262
(310) 800-8050
California is one of the best places to start a career in the field of medicine. The demand for healthcare providers is now increasing because of the high number of elderly in the population. Two of the most in demand healthcare providers today are nursing aides and home health aides.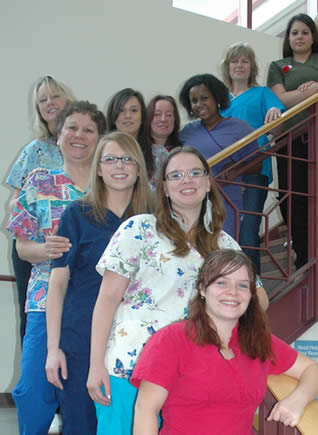 To become a nursing aide you must first enroll in a state-approved Nurse Aide Training Program or NATP. NATPs in California are required to offer 150 hours of training. Their curriculum consists of both theoretical lessons and supervised practical training. Students are supervised by registered nurses with background experiences in training adults. Depending on the program you enroll in, it can take you from 2 to 6 months to complete a program. The body that is in charge of approving school programs is called the (TPRU) Training Program Review Unit and can be reached to verify a facility by calling (916) 552-8873.
The state requires all students to be fingerprinted and undergo the background checks. Criminal background checks in California are done through the Live Scan Services. They are required for the purpose of protecting the interest of the patients. No student is allowed to proceed to the clinical area unless they pass a copy of their Request for Live Scan Services to the ATCS.
When you are enrolled in a program, you will learn different skills that you will use to take care of the patients. You will learn proper transporting of residents, catheter care, subacute care, postmortem care, housekeeping skills, infection control, therapeutic communication skills, assisting in ambulation and exercise, and the different basic care concepts. during your training you will be spending your time in lectures and clinical practice. While in the clinical area, you will be under the supervision of a registered nurse.
One of the advantages of training to become a nursing aide is that you are allowed to enroll in an HHA training program at the same time. Normally, an HHA program takes 120 hours to complete but since you are already enrolled in a 150-hour CNA program, you can enroll in a 40-hour HHA program. The 40 hours are divided equally for classroom lesson and supervised practical training.
Once you complete the HHA program you will get certified by the ATCS. To get a CNA certification however, you must challenge the certification exam. This exam consists of a written/oral test and a skills evaluation exam. You will only get certified if you pass all the tests.
Every applicant will be allowed to take the examination up to three times. They must take these tries within duration of 24 months from the completion of their training. If they fail for the third time, they will be required to retrain before they will be allowed to take again. Those who pass are added to the registry for nurse aides and allowed to work for 24 months before they need to renew their certification.
Both HHA and CNA certifications are only valid for 2 years. You need renew your certification(s) to keep your eligibility to work as a nursing aide and/or a home health aide. To be eligible for renewal you must provide proof of at least 8 hours of employment. You will also be required to show that you have met the required number of in-service training hours.  For more information, please follow this link: http://www.cdph.ca.gov/certlic/occupations/Documents/How-to-Renew-Your-Cert.pdf.
Still found in Los Angeles County, this city is located near the South Gate and Campton. According to the 2010 census, the people living in the city have now reached up to 69,772. The city's name was taken from Mrs. Lynn Wood Sessions which was the wife of a local dairy man. This city has a total area of 4.8 square miles where 100% of that is land.
Health care centers that can be found in the city include Omnicare Medical Group (310) 900-4280, East Valley Medical Group (310) 886-3111, Country Villa Lynwood Healthcare Center (310) 537-2500, Lynwood Health Center (310) 868-5322, Allsafe Medical Group (310) 885-5816, Millennium Multi Specialty Medical Group Inc. (310) 763-9068, Saint Francis Community Clinics (800) 900-6652, St Francis Care Medical Clinic Inc. (310) 631-5000, Nijole Glaze Medical Office (310) 608-3600, and Baart Addiction Research and Treatment (310) 537-5883. photo attribution: ufv