The nurse aide classes provided by faculties in Lincolnton, North Carolina that are available for enrollment are all listed for you on this page. These schools are all approved by the state of North Carolina Department of Health and Services. Applicants who meet the qualifications of the program and pass the course are eligible to test for their certification.
Gaston College/ Lincoln Campus
511 South Aspen Street
Lincolnton, NC 28092-2734
(704) 922-6372
http://www.gaston.edu/
(Multiple classes are being offered)
A CNA certification is needed to work as a nursing aide in North Carolina. To get a certification, you must get your name on the Nurse Aide I Registry by passing the state's competency evaluation exam. This exam is conducted by Pearson VUE at approved testing centers.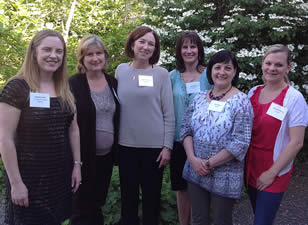 The exam is only available to those who were able to receive proper training and education. Aside from the completion of a CNA I training course, graduating from an approved nursing education school is also a way for you to be eligible to apply. Registered nurses or licensed practical nurses are allowed to be listed on the NAR without the need for additional training or testing.
Unlike other states, North Carolina does not offer reciprocity or endorsement of certified nursing aides from other states. If you are a CNA from another state and wants to work in N.C., you can either undergo a N.C. approved training program and take the competency exam, or immediately challenge the competency testing.
The competency exam consists of a written/oral exam and a skills evaluation of selected nursing skills. Each applicant is given three attempts to pass all the tests. If you fail upon initial taking, you will be given another two attempts to pass. If you fail upon the third try, you will have to recomplete another training program or finish a refresher course.
During normal circumstances, the results of the exams are received on the same date. If you passed all the tests, your name will be entered on the Nurse Aide Registry. You will be able to check your record by going online to: https://www.ncnar.org/verify_listings1.jsp. The link provided is also the link which most employers used to verify the status of a nursing aide.
Your record in the registry will remain the same for 2 years. In order to remain eligible to work as a nursing aide, you must renew your license before it expires. The registry normally sends out the reapplication forms within 3 months before your certification's expiration. To avoid any problems with the sending on the forms, please keep your record in the registry up-to-date.
If you changed in address or your name, it is your task to keep the NAR notified to avoid any problems later on. You can keep the registry informed by calling or writing to the registry, or use the Name/Address Change Reporting form (http://www.ncdhhs.gov/dhsr/hcpr/pdf/nar_coaf.pdf) and send it to address provided on the top of the form.
This city is the county seat of Lincoln County. It is situated and a part of the Charlotte metropolitan area. You can find this city a few miles northwest of Charlotte. According to the 2010 census, their total population was at 10,683. This city has a total area of 8.2 sq miles and a population density of 1,219.4/sq mile. Major roads that are serving this city include State Highway 27 and U.S. Route 321.
Examples of health care centers that you can find in the city include Lincoln Dental Health Services Inc., RHA Health Services, First Foundation Clinic of The Carolinas, Piedmont Pediatrics Center, Scala Medical Clinic, Wolyniak Joseph DO, Impact Carolina Services, Piedmont Family Services, Kindred Healthcare 307, Metrolina Kidney Center, and Nextcare Urgent Care. photo attribution: ufv