The nursing assistant training programs that are located in Lebanon, New Hampshire are found on this page. Those who meet the requirements of the state approved course can sign-up and once they have finished the class may apply to take the license examinations.
Dartmouth Hitchcock Medical Center
1 Medical Center Drive, Lebanon, NH 03756
(603) 650-2500
http://www.dartmouth-hitchcock.org/
This is the best time for you to enroll in a CNA training course. With the increase in population, there is also an increase in demand for qualified health care workers. Due to the continuous increase in the cost of providing medical treatment each year, health care institutions are turning to nursing assistant to help. Nursing assistant or aides, when working are under the supervision of a registered nurse and assist the health care team with a number of common tasks and procedures.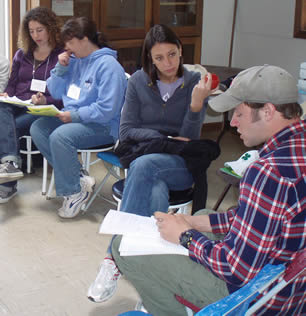 Because of the increase in the demand for nursing assistants, there are now more people who want to become CNAs. One of the requirements to be allowed to work as a nursing assistant is to take the license exams, which in turn requires that the individual to complete a state-approved training program.
For a program to be approved by the state, they are required to follow certain guidelines. For example, all programs must offer their students no less than 144 hours of training. Their training should include both theories classes and practical skills training. They are also required to test the students both in written/oral and skills. Upon passing the program, they will then provide the graduate proof that they completed the necessary training to take the LNA exams.
In some cases, NA programs also offer Train the Trainer programs. Train-the-trainer program is a program that must be completed for those who want to become an instructor or a clinical supervisor. This type of program also has a different set of guidelines that it must follow. For more information, please visit this link: http://www.nh.gov/nursing/nursing-assistant/train-the-trainer-guidelines.htm. You can call the NH Board of nursing to learn more about the most recent requirements to become certified by calling (603) 271-6282.
The city of Lebanon is located in Grafton County. You can find this city in the western part of the State and is south of Hanover. The town was officially charted on July 4, 1761 by Colonial Governor Benning Wentworth. According to the census of 2010, their total population had reached up to a total of 13,151 people. They have a population density of 320/sq mile. The total area of Lebanon is approximately 41.4 sq miles, where only 1 square mile is water. Major highways that are accessible from the city include Interstate 89 and Interstate 91.
Health care centers that are located in the area include Genesis Health Care Corporation, Dartmouth-Hitchcock Medical Center, Hygeia, Robert A Mesropian Center, Schmidt Physical Therapy, Dartmouth-Hitchcock Medical Center, WISE Domestic & Sexual Violence Program/Office, Lu's Acupuncture & Chinese, and many more. photo attribution: create-learning