The certified nursing assistant classes offered by facilites in Layton, Utah can be seen below. These course meet state requirements and allow graduates to go on to the license exams.  Call the contact number listed below for details about the certification requirements, program schedules, and cost of tuition.
NORTHRIDGE HIGH SCHOOL
2430 N 400 W
Layton, UT  84041
801-402-8655
(Classes are offered to high school students only)
The first step in becoming a nursing aide is to enroll in a state-approved instruction class. It is important that you learn the knowledge and skills to properly take care of the patients. Approved training programs can be found offered through hospitals, nursing homes, assisted living centers, rehabilitation clinics, community colleges, vocational schools, government organizations, and many more.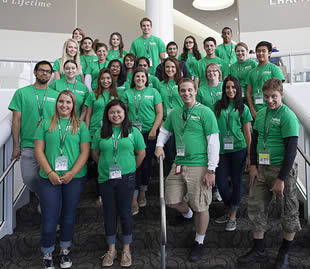 Requirements to be accepted into a CNA program:
•    Age: at least 16 years old
•    Education: possess a high school diploma or  GED certificate
•    English Competency: understand and speak basic English
•    Criminal background: must pass the federal and state background checks with fingerprinting
CNA training in Utah consists of 50 hours of classroom instructions and 30 hours of supervised clinical practice. Both of these are taught at the same time. Students are taught and are handled by a clinical instructor who has background experiences in training adults.
Completing a state-approved program will make you qualified to apply for the certification exam. Taking on the certification exam is the final step in becoming a CNA. If you are able to pass both the written and skills tests then your name will be added to the Nurse Aide Registry. According to the law, only those who are on the NAR are allowed to work as long-term nursing aides.
Although completing a nurse aide program might be the most common way of qualifying for the certification exam, it is however, not the only way. You can also qualify by completing one semester of nursing school as a nursing student or by just simply taking the Fundamentals of Nursing.
The certification exam in Utah is conducted by D&S Diversified Technologies at approved testing centers. On the day of the exam, all candidates are required to arrive before the scheduled time to avoid being late. Latecomers are not allowed to enter the testing area once the exam has started. Candidates must also bring 2 valid IDs for the pre-testing check-in.
Once you get a CNA certification, you will need to work, for compensation, as a nursing aide for at least 200 hours. This will make you eligible for renewal. The NAR will send out a notice at least 45 days before your certification's expiration. If you fail to renew on time, there is still a 30-day grace period. However, there will be a penalty fee of $10.
This city is in Davis County. It is included in the Ogden–Clearfield, Utah Metropolitan Statistical Area. It was founded back in the 1850s and was named after Christopher Layton. It has a total area of approximately 20.8 sq miles. Its total population as of the last census was at 67,311. Its population density is 2,823.9/sq mile.
Examples of health care centers that you can find in the area include After Hours Medical – Layton, Tanner Clinic, Rocky Mountain Women's Health Center, Davis Family Physicians PC, Summit Family Medicine, Work Care Occupational Health Services, Intermountain Expresscare, Richman Brian & Richard Seegmiller, and many more. photo attribution: codnewsroom