The schools providing training to become a certified nursing assistant in the town of Laurinburg, North Carolina are all listed for you below. If you have any questions about their course curriculum, and enrollment details, just call the number that is shown to you on this page.
Richmond Community College at Scotland Center
201 Atkinson Street,
Laurinburg, NC
(910) 410-1833
http://www.richmondcc.edu/
Starting a new career can be difficult at times, especially when it comes to the monetary aspect of it but choosing to be a nursing aide in North Carolina can be one of the greatest career decisions you can make. The demand for this job is continuously increasing as the number of people who need help with their daily activities and health needs also increase. The average nursing assistant salary in North Carolina is between $16, 000 to $29, 000 annually, which can also increase depending on your experience.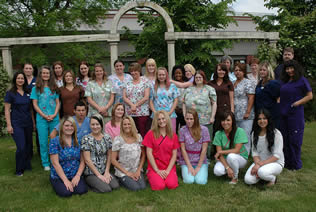 Becoming a nursing aide I is only the beginning step since the training you receive in their program is basic. If you want to increase your skills and knowledge, you can train to get advance certifications and be a nursing aide II, geriatric aide, or a certified medication aide. Each of these certifications comes with its own advantages and scope of responsibilities.  Getting an advanced certification may result in an increase in your salary.
A requirement for you to be eligible to train for those advance certifications is for your name to be on the Nurse Aide I Registry, which means that you must have a nursing aide certification first. Since this state does not offer reciprocity, the only way to get into the NAR is by passing the competency exam, which consists of a written/oral test and skill evaluation exam.
Once you are in the NAR and are able to maintain an unencumbered record, you will be allowed to apply for the advance certifications. If you want to specialize in geriatric care, you will need to enroll in a geriatric aide training course. As soon as you are done with the course, your name will be entered in the Geriatric Aide Registry.
Becoming either a CMA or a NA II is similar to the process of becoming a NA I. The first thing that you need to do is to complete the appropriate state-certified training course. As soon as you are done, you will then proceed to challenge the competency exam. Like the NA I competency exam, you will be given three attempts within 2 years from the completion of your training to pass if not, then you must retrain.
Laurinburg city is the county seat of Scotland County. You can find this mid-sized city in the southern part of North Carolina. It is situated just a few miles southwest of Fayette. It has a total area of about 12.6 square miles. According to the last census, their total population was around 15,874 residents. It has a population density of 1,280.2/sq mile.
Examples of health care centers that you can find in the area include Amethyst At Scotland Memorial, Schaffer Susan Doctor of Osteopathi, Environmental Inspection Solutions, Interim Health Care, Integrated Behavioral Health Services, Evergreen Behavioral Mgt Inc., Scotland County Health Department, Coordinated Health Services, and many more. photo attribution: ufv