The nursing assistant training courses in Lansdale, Pennsylvania that are found on this page have all the information that you need to become certified to work. Each of these programs have been approved for enrollment by the PA Department of Health.
Dock Woods Community Inc.
275 Dock Drive,
Lansdale, PA 19446
(215) 362-1537
N. Montco Technical Career Center CNA Program
1265 Sumneytown Pike,
Lansdale, PA 19446
(215) 368-1177
Working as a CNA in the State of Pennsylvania can lead to a long and successful career in the health care industry. Nurse aides in this state can make around $20,000 to $30,000 yearly, depending one where one works. Since the demand for nurse aides in the state is constantly high, an aspiring nurse aide candidate won't have trouble looking for work once he or she has met the state's requirements.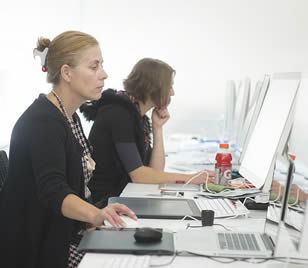 The road to becoming a certified nurse aide begins by enrolling in a certified Nurse Aide Training Program or NATP.  When you enroll, you will spend a minimum of 42.5 hours in the classroom for lectures and 37.5 hours in the clinical area for your supervised clinical practice. Both your lectures and practical training will be taught simultaneously.
If you are employed by a certified long-term care facility prior to enrolling in a program, you will not be charged for training and testing costs. The employing health care facility shall be held responsible for paying all training and testing costs. You can call the Pennsylvania Department of Public Welfare to know more about Nurse Aide Reimbursements.
Only nurse aide candidates are allowed to apply for the CNA exams after completing their training. The exams initially consist of a multiple-choice written test and a manual skills demonstration. A candidate must pass both tests in order to get into the Nurse Aide Registry. If an applicant has trouble reading, he may opt to take the oral version of the written test instead by indicating the type of knowledge test he wants to take on the application forms. First-time takers are required to include $102 in the form of a money order or a cashier's check as payment for the testing fees.
Each candidate is given 3 attempts to apply and pass the exams. These attempts are only valid within 24 months after a candidate completes his or her training. If the candidate uses up all his attempts or fails to pass within the 24 month period, he will be required to complete another training program before he/she can reapply. To find the location of a testing facility you should call the American Red Cross at their phone number which is 1-800-795-2350.
CNA certifications in Pennsylvania are not permanent. Certificate holders must renew their certification every 2 years to remain eligible to work in a long-term care facility that receives Medicare/Medicaid reimbursements. The state requires nurse aides to provide proof of paid employment for at least one day (8 consecutive hours) to qualify for renewal.
If a nurse aide fails to renew on time or fails to meet the requirements for renewal, his certification will be considered lapsed. No CNA is allowed to continue working with an expired certification. A lapsed certification can only be reactivated by retaking the exams within 2 years of its expiration. A nurse aide with a lapsed certification is given only one chance to pass. He will be required to start all over if he fails to pass both parts of the exams.
The borough of Lansdale is in Montgomery County. The borough is well known for its several industries like canning factories, brickyards, milk, and cigars. You can find this city about 28 miles north from Philadelphia. According to the census of 2010, their total population had reached up to a total of 16,269 people. They have a population density of 5,245.8 / sq mile. The total area of Lansdale is estimated to be about 3.1 sq miles, where all of it is land.
There are a number of health care providers that you can find serving Linsdale, PA, they include Montgomery Surgery Center, Elite Care Chiropractic, Catholic Healthcare Services, STD Test Express, GE Healthcare, St. Mary Manor, Ophthalmology Physicians & Surgeons, Northwestern Human Services of Montgomery County, Millennium Healthcare Consulting Inc., Center for Gi Health, and NovaCare Rehabilitation. photo attribution: ufv