The certified nurse aide training programs in Langhorne, Pennsylvania that are being offered as of the making of this page are all shown to you in detail here. Schools offered here meet the standards of the state and are recommended by the PA Department of Health.
Attleboro Nursing and Rehabilitation Center
300 East Winchester Ave.,
Langhorne, PA 19047
(215) 757-3739
All nurse aide candidates are required to receive proper training. To ensure that patients will receive quality care, nurse aides must have the knowledge and skills necessary to meet the individual needs of the patients/residents. Enrolling in a CNA training program is one way of getting the education and training that candidates need to become eligible to work in health care facilities long-term.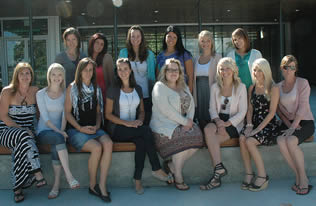 Nurse aide training programs are offered through different entities such as hospitals, nursing homes, community colleges, long-term care centers, and other healthcare institutions and training facilities. All programs must be approved by the Pennsylvania Department of Education before a facility can accept students. Programs must have a minimum of 80 hours of instructions, of which 37.5 hours must be allocated for supervised hands-on training. The rest of the remaining hours are allocated for classroom and laboratory instructions. Both theory and practical training are taught concurrently.
A candidate may submit his application for the National Nurse Aide Assessment Program Exam once he or she has finished training. Taking the NNAAP exams is a necessary and final step towards becoming a certified. This exam will test candidates in their knowledge and skills in all things related to being a CNA. It consists of a written (or oral) test and a practical skills test, which are both taken on the same day.
Candidates will have 24 months after completing their training to pass the NNAAP exams. If they fail, they will have another 2 attempts to reschedule and retake the test(s) that they failed. If a candidate fails to pass after three attempts, the candidate must undergo retraining before he or she can reapply; and retake both parts of the exams, not just the ones that he or she failed.
Names of individuals who are able to pass both parts of the exams are entered into the Nurse Aide Registry. These individuals will receive their Registry Card within 3 weeks after passing. This card must be shown to the employer. Tampering with the card may affect the status of the holder on the Nurse Aide Registry.
Once an applicants name is on the registry, that person must keep his or her record updated. Nurse aides must inform the registry if they ever change the name or status. They can inform the registry by either using the Change of Name/Address form (can be downloaded from www.pearsonvue.com) or by sending a letter to the NAR along with proof of the change.
Taking a CNA program may not be required if you are a nursing graduates, military trained nurse or have worked in this profession in another state. This also goes the same for those nursing students that can prove that they have completed the nursing fundamentals school requirement and had similar training to those that are taught in nursing assistant training programs.
The process of transferring certification to gain entry into the Pennsylvania State Nurse Aide Registry is called reciprocity. The applicant must have a clean record and an active certification to apply. An applicant's name must not be on the Abuse Registry. Interested nursing assistants should contact the Department of Health through Pearson VUE at (800) 852-0518.
This is a borough that is a part of Bucks County. You can find this borough a few miles from the Delaware River. According to the latest census that was taken there, their total population had reached up to a total of 1,622 people. The borough has a total area of approximately 0.5 sq miles, where all of it is land.
Examples of health care centers that are available in the area include Women's Health Associates of Bucks County MD, Barix Clinics of Pennslyvania, Penndel Mental Health, Penndel Mental Health Center Child & Family Service, The Endoscopy Center At Saint Mary, Langhorne Dialysis LLC, Family Service Association of Bucks Co, Your Eyes Center, STD Test Express, and Carden Family Institute. photo attribution: ufv