The available CNA class programs located in Lancaster, Pennsylvania are shown to you here. To get more details about these PA Department of Health approved programs, please call the training facility phone number that is  shown on this page.
Lancaster-Conestoga View
900 East King Street,
Lancaster, PA 17602
(717) 299-7850
LCCTC Career Link Nurse Aide Course
1016 North Charlotte Street,
Lancaster, PA 17603
(717) 509-5613
What makes being a nurse aide in Pennsylvania so great? For one example, the demand in the state is constantly high. This demand has even increased in the recent years since the "Baby Boom" generation became senior citizens, which greatly added to elderly population. New nurse aides won't have trouble finding jobs because of such high demands.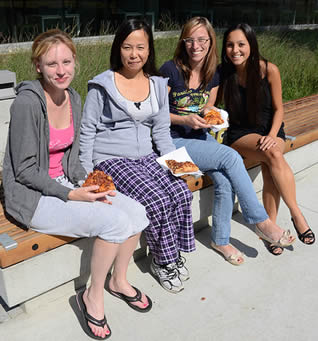 Another advantage of being a nurse aide is that the training is very quick. You can equip yourself with the competencies needed to be a nurse aide in a matter of a few weeks. All you need to do to learn the necessary knowledge and skills is to enroll in a CNA training course. These courses can last 3 to 4 months; some can even be completed within one month. To start you will need to enroll in a nurse aide program that teaches both clinical hands-on proficiencies in a nursing home setting. Course must be accepted by the state to qualify you for the examination.
While you are enrolled in a program, you'll be spending most of your time in the classroom learning important nursing concepts like medical terminologies, interpersonal skills, therapeutic communications, promoting independence, respecting patients' rights, and medical and surgical asepsis. You'll also be spending your time in the clinical area, practicing basic nursing skills such as vital signs taking, catheter care, performing passing ROM exercises, and many more.  Once you complete all of the hourly instruction you will have up to 24 months to pass the nurse aide exams.
Registered nurses and licensed practical nurses who wish to work as nurse aides can skip the training requirements and immediately apply for a place on the Nurse Aide Registry. Nursing students and graduates who can provide proof of education can request an Authorization to Test from the Department of Education and submit it along with the application forms for the NNAAP exams. The process is called reciprocity and allows those with such experience and education to apply to transfer to this state. To qualify you will have to provide documents that prove your training and/or work history.
The NNAAP exam is divided into two parts – a written (or oral) exam and a manual skills evaluation. Those wishing to get certified must pass both parts within three attempts or face retaking their training. You can call the American Red Cross at 800-795-2350 to find the nearest testing location and ask specific questions about testing. Since the NNAAP exams follow the provisions of the American with Disabilities Act, applicants wish certain disabilities can request for special accommodations when taking the exams. These accommodations may include, but are not limited to:
–    A separate testing room
–    Additional testing time
–    A Reader or Recorder, for individuals who have mobility or visual impairments or who cannot read or write.
The NNAAP exams in Pennsylvania are conducted by the American Red Cross with the help of Pearson VUE. Nurse aide candidates can download a copy of the application forms by going to www.pearsonvue.com. Applications and requirements must be placed in one envelope and sent to:
American Red Cross
Competency Evaluation Program
1804 North Sixth Street,
Harrisburg, PA 17102
(800) 795-2350
Feel free to contact the ARC if you have any questions regarding the application process. You can also call the Department of Health to get more information regarding the CNA Certification Process.
Once you pass the test you are listed in the state nurse aide registry. By being included in the registry you are now eligible to be employed and work for 24 months. To remain listed you will need to prove that you are remaining active by submitting work verification of having been employed for one, eight hour shift for each 24 month period. You can call the company, Pearson VUE that handles registry questions regarding nursing assistant requirements at 1-800-852-0518.
If you are a CNA from another state who wishes to work in Pennsylvania, you can apply for a position on the PA-NAR by applying for endorsement. Interested certified nurse aides need to contact the Department of Health to get the complete requirements for endorsement. Call the DOH at (800) 852-0518.
The city of Lancaster serves as the county seat of Lancaster County. It is located in the South Central region of the Commonwealth of Pennsylvania. The city is also one of the older non-coastal towns in the entire country. It is also called as the "Red Rose City". Founded in 1730, it was originally known as Hickory Town. Its current name was given by John Wright after the Lancaster in England. According to the census of 2010, their total population had reached up to a total of 59,322 people with a population density of 8,000/sq mile. This city ranks as the 8th most populous city in the state. It has a total area of 7.4 square miles.
The Lancaster General Hospital is the biggest employer in the city. It has over 7,000 employees. Other health care centers in the area include Salisbury Management Inc., Horizon Healthcare Services, Southeast Lancaster Health Services Brightside, Body & Sole Reflexology ,LLC, Breast Health Associates, NovaCare Rehabilitation, Lancaster Rheumatology Associates, Lancaster County Mental Health, Dermatology Physicians Inc., and many more. photo attribution: ufv