The nurse aide programs in Jim Thorpe, Pennsylvania that are being offered at this time are available below. For any inquiries about enrolling in a certification course, please call the school phone number provided below.
Carbon County Area Vocational Technical School
150 West 13th Street,
Jim Thorpe, PA 18229
(570) 325-3682
CNA's work in many different health care facilities such as hospitals, clinics, and  nursing homes. They generally work under the supervision of a registered nurse and are required to help assist patients with their daily duties.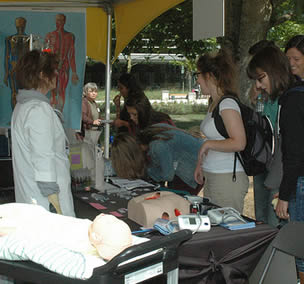 One must be on the Pennsylvania State Nurse Aide Registry to work as a CNA in any health care institution in the state. If you have never been certified as a nursing aide before, then your only option is to take the National Nurse Aide Assessment Program Examination (NNAAP exam) right after you complete a certified class. Before you can enroll in a class, you need to undergo fingerprinting for the criminal background checks first. These checks are done at federal and state levels. It can cost you around $38.75 for the checks ($10 for State and $28.75 for FBI checks). The results of the checks are a requirement to enroll in a course.
Nursing assistant classes comprise of 80 hours of instructions. Out of the 80 hours, 37.5 hours are required to be allocated for hands-on training in the clinical area. When the students are in the clinical area, they are placed under the supervision of a recognized Instructor. Both Theory and practical training are taught at the same time. Before students handle any patient, they are first taught about infection control, communication techniques, safety and emergency procedures, medical terms, personal care, right and independence or the patients/residents, and roles and responsibilities of nursing aides.
When choosing a class to enroll in, one must only select a class that is approved by the Pennsylvania Department of Education. This will ensure that you will be allowed to apply for the NNAAP exams after your training. Nursing students and graduates are allowed to skip the training requirements, and can directly apply for the exams if they can provide proof of completing the Fundamentals of Nursing while in a certified nursing school. They, however, are only given one chance to pass; if they fail, they will have to complete a CNA class before they can reapply.
The NNAAP exams initially consist of a 70-item written test and a random skills test. Candidates who have trouble reading can request to replace the written test with an oral exam instead.  Since the NNAAP exams comply with the provisions of the ADA, candidates may request special accommodations for certain disabilities when taking the exams.
Every candidate who applied as new nursing aides is allowed to retake the exams twice. If they fail to pass after their 3rd attempt, then they must complete another training program. When retaking the exams after retraining, they must take both parts of the examination instead of just the part that they failed. Those who pass successfully are included in the state nurse aide registry. You can get all of the latest news, and information about registry requirements by calling Pearson VUE at 1-800-852-0518. For the nursing assistant testing locations in your area call the American Red Cross at 1-800-795-2350.
This borough is the county seat of Carbon County. It has been nicknamed as the "Switzerland of America" because of the scenery and mountains there. This community was once known as Mauch Chunk back in 1818 but was later renamed after the Olympic medal winner and renowned athlete Jim Thorpe. As of the 2000 census, their total population had reached up to a total of 4,804. It has a population density of 332.1 / sq mile. The total area of Jim Thorpe is approximately 14.8 sq miles, where only 0.3 square miles of it is water.
Examples of health care clinics and providers that are found in the area include Manzella Family Healthcare, Romano-Checchia Marylou DO, Mauch Chunk Massage & Bodywork, Romano Pat F Doctor of Osteopathi, Tonatti Mathew P Pac DO, Hanley Patrick J Doctor of Osteopathi, and many more. photo attribution: ufv