Students who desire to become a nursing assistant can find training classes in Jamestown, North Dakota to help them achieve that goal. Programs are designed to educate applicants in a variety of health care techniques and procedures to prepare you for the exam and give you the experience to successfully perform the duties of the job.
Central Dakota Village
501 19th St. NE,
Jamestown, ND 58401
(701) 252-5660
Hi Acres Manor Nursing Center
1300 2nd Place NE,
Jamestown, ND 58401
(701) 252-5881
http://www.eventide.org/
One of the best fields to start a career today is in health. With the increase in the population, there are also increases in the number of people who will be looking for help regarding their health. If you look at recent trends, you will see that the job opportunities for healthcare professionals and those who are involved with them are continuously on the rise.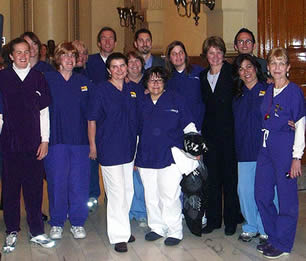 For example, with the increase in the demand for nursing assistant, also comes an increase in the demand for training facilities that will properly educate and train nursing assistant trainees. Training facilities that wish to offer CNA training are required by the DOH to first be certified before they take on any students. A training facility will have to be checked if it meets the state's standards before it can get certified. The checking is done after the DOH receives the completed application form (http://www.ndhealth.gov/hf/PDF_files/Nurse_Aide_Training_Program_Application_for_Approval_-_10-01-09.pdf).
According to the law, only qualified instructors are allowed to teach the students. A qualified nursing assistant instructor is a registered nurse with a minimum of 2 years of working experience, where one of those years is spent in a long-term care facility. An instructor must also have previous background experiences in teaching or training adults or has completed a course or seminar. Other professions such as physical therapists, nutritionists, dieticians, pharmacists, and even licensed practical nurses may find work as supplemental instructors.
The first step in becoming a CNA in the state of North Dakota is to enroll in a CNA training program that is approved by the state. In the training, you will learn about basic care, mental health, emergency procedures, infection control and other nursing skills. All you have learned will be tested when you apply for and take the license exams.
Training to become a nursing assistant can be a great stepping stone if you want to pursue higher certifications. An example of an advance certification is a medication assistant II certification. To get this, you will have to complete another training program, which consists of 48 hours of lectures and lab works, and another 32 hours of on-the-job training.
One of the benefits of training to be a nursing assistant is that you may already start working if a licensed nursing facility hires you. An individual who is hired by a licensed facility is given 120 days to work. If he wishes to continue, then he must get certified. Training facility are also not allowed to charge these individuals with any training costs.
Jamestown is the county seat of Stutsman County. Founded in 1872, the name of the town was named after the hometown of General Thomas Rosser, who was responsible for establishing the town. As of the 2010 census, their total population was around 15,427 people. They have a total area of approximately 12.88 sq miles, where almost all of it is land. This makes Jamestown as the 8th biggest city in the state. It has a population density of 1,202.2/sq mile. It is also known as the "Pride of the Prairie".
Health care centers that are located in the area include Meritcare, Body & Mind Therapeutic Massage, Qual Chiropractic, Essentia Health-Jamestown Clinic, Schmidt Chiropractic Clinic, Community MRI Services, Central Valley Health Unit, South Central Human Service Center, Innovis Health, Schmidt Chiropractic Clinic, and Medcenter One Jamestown Clinic. photo attribution: valuecarenurses