The Indiana Certified Nurse Aide Registration Program is an easy way to access ones accounts from the Indiana's Department of Health.  Through the online registry, nurse aides are allowed to check their current status as a CNA and will be able to access other relevant information about their work history.  The registry can be accessed online and is available free of charge to those who are looking for licensed nurse aides whom they wish to hire.  Only those who have a current and active status are allowed to be employed in Indiana.
Indiana Certified Nurse Aide Registration Program
2 North Meridian Street, 4B
Indianapolis, IN 46204
Long Term Care Receptionist: (317) 233-7442
ISDH Main Phone Line: (317) 233-1325
Aide Registry Program Manager
Contact: Darlene Jones
Phone: (317) 233-7351
Email: dkjones@isdh.in.gov
Aide Education and Training Program Manager
Contact: Gina Berkshire
Phone: (317) 233-7497
Email: gberkshire@isdh.in.gov
Search IN Online Licensing Registry
The website caters to both nurse aides and employers who wish to update information with regards to their licensure status.  It allows employees to renew their certification online without the need to personally go and submit documents to the office of the Department of Health.  As an employer, you will also be able to look up a particular employee and see his or her work history and whether or not there are current disputes about their work.  This way, you will be able to see if they have any record of abuse or neglect which would lead to the revocation or cancellation of their licenses which will exclude them from being hired at any nursing facility.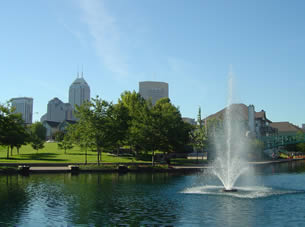 The state of Indiana had allowed the easy processing of renewal of licenses through their online website.  The CNA only has to key in his or her license number and then continue with the renewal of their licenses.  They can also ask for printouts of their licenses and cards through the website.  Although the process of acquiring a nurse aide certification in Indiana can be difficult, the renewal of licenses can easily be done. You can contact the Department of Health, Division of Long Term Care if you wish to have additional information about their services.
To become certified to work, you should undergo a state accredited training program in Indiana and should be able to comply with the required number of hours of training.  You should also pass the physical and criminal background check which will determine your fitness for the job as well as your ability to get hired.  Those who have past convictions with cases involving theft, felony, drugs and violence will not be allowed to work as a nursing assistant in the state of Indiana.  You will need to pass both of these tests before you can even take the state certification examinations. You can read more about all of the current IN nursing assistant certification requirements here.
To access the Indiana Certified Nurse Aide Registration Program, you have to visit the state's Department of Health.  You can access the information that you need about a particular CNA by keying in their social security number at the box provided.  The service is provided for free and there is no fee that is required in order to gain such information.  At the website, you will also be able to learn about the recent health policies and bulletins of the Department.  You can file a complaint against a health care worker for abuse of neglect or a training facility also by logging in to this website.