Becoming a nursing assistant in Huntsville, Alabama is possible by enrolling in one of the  classes that are available below. We've included their contact details so you can call them if you have any questions regarding their training, tuition, schedules, or want other related details.
American Red Cross – Madison/Marshall County Chapter
1101 Washington St., NW,
Huntsville, AL 35801-5417
(256) 536-0084
Calhoun Community College – Nursing Development
102 Wynn Dr. NW,
Huntsville, AL 35805
(256) 890-4747
Becoming a Nursing Assistant in Alabama
According to the OBRA of 1987, a person may only work as a long-term nursing aide in any state if he is listed on that state's Nurse Aide Registry and has a current certification. If you had never been certified before, then the first thing that you need to do is to look for a CNA class to enroll in.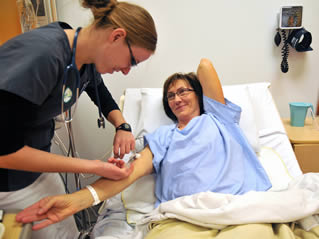 Nurse aide training in this state lasts a minimum of 120 hours. These hours are divided into classroom instructions and supervised clinical practice. An aspiring nursing assistant must only enroll in a program that is approved by the Alabama Department of Health. You may find these programs offered through hospitals, nursing homes, community colleges, vocational and technical schools, government organizations, and other health care institutions and training schools. Upon completing your training, you will have 24 months to apply for the certification exams.
The certification exams in Alabama are conducted with the help of Pearson VUE. The exams are divided into two parts, which consist of a written exam and a manual skills demonstration. The payment fee for these two tests is $100. If a candidate has trouble reading, he or she may request to take an oral version of the written exam for an additional fee of $20.
Candidates are required to pass both tests to get listed on the Alabama Nurse Aide Registry. If a candidate fails in any exam, he or she has another 2 attempts to pass. These attempts are only valid within the 24 months given after the completion of training. A candidate will be required to undergo retraining is he or she fails to pass within 3 attempts, or within one year after the completion of training, whichever comes first.  The exam results are released on the same day if there are no technical problems.
Being a Certified Nursing Assistant
Getting certified will mean that you will now be allowed to apply and in any health care facility, of your choosing. The Huntsville Hospital System and the Crestwood Medical Center are the biggest health care institutions in the city. You can also work in other areas like South Care Clinics, Quick Care Clinic, FMC North America, Surgery Center of Huntsville, Trinity Medical Care, Huntsville Emergency Medical, Whitaker Medical Ltd, and many more.
CNA Certifications expire 24 months from the date you successfully passed the certification exam. Once your name is on the NAR, the following conditions must be met:
1.    Get paid for providing nursing and nursing-related services.
2.    Be able to provide direct patient care.
3.    Work as a CNA, while under the supervision of a registered nurse.
4.    Work for at least 8 hours in a certified hospital, nursing home, home health agency, hospice agency, mental health facility, or other long-term care centers.
If you're planning to work in Alabama, then why not work in Huntsville. This city is located primarily in Madison County. It is currently the county seat of Madison County. The city is nicknamed as "Rocket City", and has over 180,000 people living in it. It is considered to be the 4th largest city in the state of Alabama, with a total area of 210 square miles. The demand for health care and health care providers in this city has always been high. Two of the primary medical centers located here are the Huntsville Hospital System and the Crestwood Medical Center. photo attribution: ufv