The nursing assistant classes in Hollidaysburg, Pennsylvania that are shown here offer the most recent and up to date licensure programs. Each of the training course shown has met the approval of the PA Department of Health.
Allegheny Lutheran
915 Hickory St.,
Hollidaysburg, PA 16648
(814) 696-4527
Presbyterian Home
220 Newry St.,
Hollidaysburg, PA 16648
(814) 693-4000
There are plenty of different ways to enter the field of health. One of them is to start a career as a nursing aide in Pennsylvania. The demand for nursing aides in this state has always been high, which makes it easy to find work for the newly certifed. Since nursing aides are entry-level professionals, their training does not take that long to complete.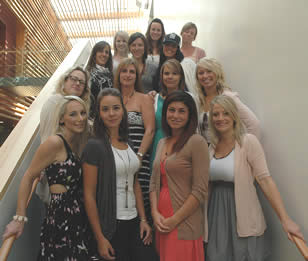 CNA training in this state must include a minimum of 80 hours of instruction. The hours are divided into 42.5 hours of classroom and laboratory training and 37.5 hours of supervised clinical practice. Both parts of the training program are taught simultaneously. CNA training may last from about 3 to 4 months, depending on the program you choose to enroll in.
When enrolled, students will be taught important concepts of the Fundamentals of Nursing such as therapeutic communication skills, roles and responsibilities, promoting independence, infection control, and many more. Students will also be trained in the necessary skills like tracking and monitoring of vital signs, assisting in daily activities, feeding through NGT, catheter care, performing bed baths, and other basic nursing skills.
Completing an approved training program is a necessary step in establishing eligibility to apply for the certification exams. Though completing a CNA program is the most common way to do this, it is not the only way. Nursing students who took up the Fundamentals of Nursing while enrolled in a nursing school that is approved by the Department of Education can also apply. They will need to enclose an authorization letter to test when they submit their applications to the American Red Cross.
Applicants will have 24 months after completing their training to pass the certification exams. The certification exams are divided into two parts – a written exam and a manual skills demonstration. Candidates who have trouble reading can request to take the oral version of the written test. They will have 2 hours to answer 70 multiple-choice questions on the written test and 30 minutes to perform 5 randomly selected nursing procedures in front of an evaluator.
If an applicant is able to pass both tests, his or her name will be entered into the Pennsylvania State Nurse Aide Registry. Those whose names are on the NAR are given a Registry Card, which can be used to validate one's certification as a nursing aide. Your eligibility to work in a federal nursing facility is only valid for up to two years. You must renew your certification if you wish to continue working as a CNA.
While your name is on the NAR, you must keep your record in the registry updated. If you change your name or address any time, then you must inform the registry as soon as possible. Failure to inform them may jeopardize your status on the NAR. You can inform the registry by using a Change of Name or Address form, which is included at the back of the Candidate Handbook (http://www.asisvcs.com/publications/pdf/063900.pdf). If you don't have one, then you can send a letter to the Department of Health, informing them of the change.
To check your status as a certified nursing aide, you can visit this site: https://www.pulseportal.com/ or call the DOH at (800) 852-0518.
This borough is the county seat of Blair County. It is situated south of Altoona and is on the Juniata River. The borough was name after Adam and William Holliday, who were responsible for founding the settlement. Hollidaysburg is included in the Altoona, Pennsylvania, Metropolitan Statistical Area. According to the census of 2010, their total population had reached up to a total of 5,791 people. They have a total area of 2.4 sq miles and a population density of 2,413/sq mile.
Health care centers that are serving Hollidaysburg include Blair Health choices, The Center for Behavioral Health Data Research, Southern Cove Medical Associates, PRO Care Health Systems, Lytle Behavioral Health/Dui, Advantage Home Health Services, and many more. photo attribution: ufv