School classes for nursing assistants in Highland Springs, Virginia are provided in the list below.  Those who enroll will receive a variety of training in health care techniques, theory, and lab experience to prepare them for the certification testing phase.
Highland Springs Technical Center
100 Tech Drive
Highland Springs, Virginia 23075
(804) 781-1820 OR (804) 328-4095
Henrico County Public Schools Adult Education Center
201 EAST NINE MILE ROAD
Highland Springs, VA 23075
(804) 781-1820
Are you looking for a great career in the field of health? Do you want to help other people by any means you can? If you genuinely with to help others and have a stable career at the same time, then you should consider becoming a nursing assistant.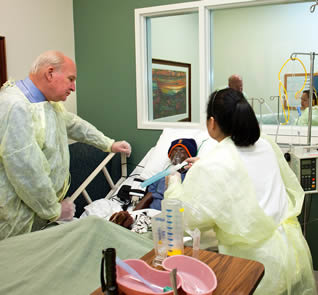 Nursing assistants work under the direct supervision of registered nurses. The tasks that they perform vary all the time and involve tasks like helping patients bathe, changing their diapers, cleaning their immediate surroundings, transferring them from one place to another and many more.
To work as a nursing assistant, you must get a CNA certification by passing the National Nurse Aide Assessment Program Examination or NNAAP exam. This exam consists of a written/oral test and a skills evaluation exam. You'll have to pass both tests to gain entry into the Nurse Aide Registry and receive the certification.
Employers are required to only hire those whose names are listed in the Nurse Aide Registry. This means that they must review every applicant's certification before hiring them. They can call the Board of Nursing at (804) 367-4569 to verify their certifications.
Once your name is entered into the Nurse aide Registry, it will be your responsibility to keep it updated. You must inform the NAR if you ever change your name or address by emailing the Board of Nursing at nursebd@dhp.virignia.gov. The Board must be informed within 30 days of the change. Failure to inform them might jeopardize your name on the Registry.
One of the great things about becoming a nursing assistant is that your training and learning doesn't end as soon as you get certified. You can further your knowledge and skills as a certified nursing assistant by enrolling in a state-approved CNA program. If you get an advance certification, then you will be allowed to perform additional tasks and responsibilities that a basic certified nursing assistant cannot. Getting this certification might also mean a promotion or an increase in your salary.
Certifications, both basic and advanced, must be renewed every 2 years after initial renewal. The good news is that the hours you work as an advanced nurse aide can already be included in the number of hours that are required to renew your certification.
This is a census-designated place that you can find in Henrico County. It was founded by Edmund Sewell Read back in the 1890s. According to the latest census, their total population had reached up to a total of 15,137 people. It has a total area of about 8.5 sq miles, where all of it is land. Its population density is around 1,777.0/sq mile.
Examples of health care facilities and providers that are serving the community include G & G Treatment Center, DDC- DNA Diagnostics Center, Caremed Inc., D P Stairlift Company LC, Nurse Advantage, and many more. photo attribution: codnewsroom